ICFF honours director Marco Bellocchio and lead actor Pierfrancesco Favino of The Traitor during TIFF 2019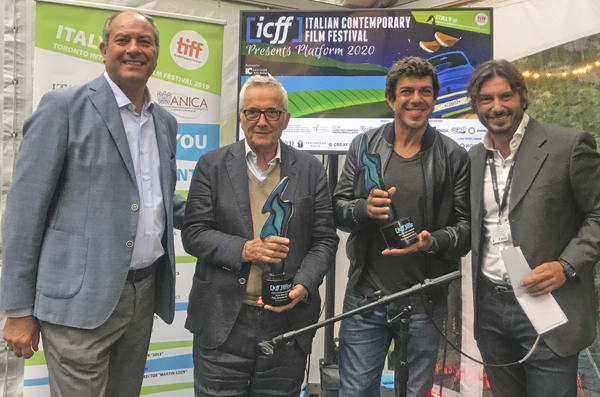 The 2nd annual ICFF @ TIFF event celebrates the Italian delegation at the Toronto International Film Festival. In close collaboration with the Italian Trade Agency and ANICA, ICFF hosts the soirée on the grounds of the Campbell House Museum. Marco Bellocchio receives a Lifetime Achievement Award and Pierfrancesco Favino receives a Special Achievement Award.
TORONTO – The Italian Contemporary Film Festival, presented by IC Savings, is a proud partner of TIFF, and is honoured to have the opportunity to welcome to Toronto some of the biggest Italian and Italian-American/Italian-Canadian stars presenting their works at the 44th edition of the world-renowned Festival. ICFF, ever-striving to shrink the distance between Italy and North America, celebrates these individuals and their contributions to the dissemination of Italian cinema around the world.
ICFF is thrilled to once again host the event in celebration of Italian actors and filmmakers, and their works including co-productions, with a special segment of the event dedicated to the immense success of the award-winning film directed by Marco Bellocchio, Il Traditore/The Traitor, based on the real-life story of mob boss turned informant Tommaso Buscetta, brilliantly portrayed by Pierfrancesco Favino. Favino and Bellocchio walked the red carpet in Toronto last evening at the North American premiere of the film, which lit up the screen at Cannes earlier this year.
The ICFF Lifetime Achievement Award is presented to Marco Bellocchio for his work as a tireless author and a brilliant researcher of the frontiers between himself, cinema and historical events. A true master of his craft, Bellocchio has enjoyed global success with such films as Fists in the Pocket, Sweet Dreams, A Leap in the Dark, and the multi-award-winning Vincere.
The ICFF Special Achievement Award is presented to Pierfrancesco Favino for sharing with an international audience his extraordinary career; one which showcases his versatility and depth as an actor, ranging from cinema to television to theatre, and across genres from intense dramas to quality comedies. Favino is recognized for his efforts in bridging the path between Italy and North America within his diverse roles, including The Chronicles of Narnia, World War Z alongside Brad Pitt, as Christopher Columbus in Night at the Museum, and in the Ron Howard films Angels and Demons and Rush.
Also taking part in the evening's festivities are Chiara Malta, whose brilliant fiction Simple Women debuted as an opening film of this year' Festival; Barbara Giordano, who stars in Klaudia Reynicke's coming-of-age flick Love Me Tender; and Italian-Canadian filmmaker Sandra Ignagni, whose world premiere of the touching documentary Highway to Heaven is part of this year's Shorts Programme.
More than 20 titles at this year's Festival, which runs through September 15th, have Italian content, flooding the city with stars, including Italian-American director Lorene Scafaria, whose highly-anticipated film Hustlers, starring Jennifer Lopez, Constance Wu, Cardi B and Julia Stiles, makes its world premiere on Saturday. Pietro Marcello presents his landmark film Martin Eden, based on the novel of the same name. TIFF 2019 presents the feature film debuts of some incredibly talented young Italian directors, like Carlo Sironi with his film Sole, and Filippo Meneghetti with Two of Us. Italian-American Director Giuseppe Capotondi, known for his work on the Netflix Original Series Suburra: Blood on Rome, is in Toronto to present the North American premiere of his latest work, The Burnt Orange Heresy. Many notable Italian-American heavyweights are in town for the Festival as well, including Nicolas Cage, Susan Sarandon, Ray Romano, Marisa Tomei and Martin Scorsese, whose 1978 documentary The Last Waltz will screen as part of the TIFF Cinematique Programme.
For more information on these films and many others, visit our website at www.icff.ca and follow us on Instagram and Twitter at @icffcanada.
About ICFF
The Italian Contemporary Film Festival is one of the most important celebrated events of Italian culture in North America, and is the largest Italian film festival outside of Italy. The annual festival attracts thousands of attendees to screenings, industry events, and galas. The ninth annual Italian Contemporary Film Festival will take place from June 18 – 26, 2020. ICFF is presented by IC Savings in affiliation with Fare Cinema, and generously supported by Empire Communities, Cityzen Dominus, Two Sisters Vineyards, Great Gulf Homes and Delta Air Lines – the Official Airline Sponsor. ICFF is funded by: the Government of Canada and the Province of Ontario. ICFF leading partners are: the Italian Embassy in Ottawa, the Italian Consulate General in Toronto, Montreal and Vancouver, the Istituto Italiano di Cultura in Toronto and Montreal, the Italian Trade Agency, ANICA, Cineplex Cinemas, TIFF and SIRT Sheridan. ICFF Media partners are: RAI Italia, CHIN Radio/TV and OMNI Television. ICFF Communcation Partner is Rogers. ICFF media supporters are: Dolce Media, Panorama, Italiani.ca, ItalNews, Lo Specchio, MyETVMedia, Snapd. ICFF partners are: L'Altra Italia, Christie Digital, CIBPA, Comites Toronto, George Brown College, ICCO, Italian Heritage Month, Ryerson University, Take 5 Productions, TFCA and York University.
Media Contact:
Anne-Elise Allegritti, ICFF Communications Coordinator – aallegritti@icff.ca – 416.918.4675