Marcel the Shell to Open fest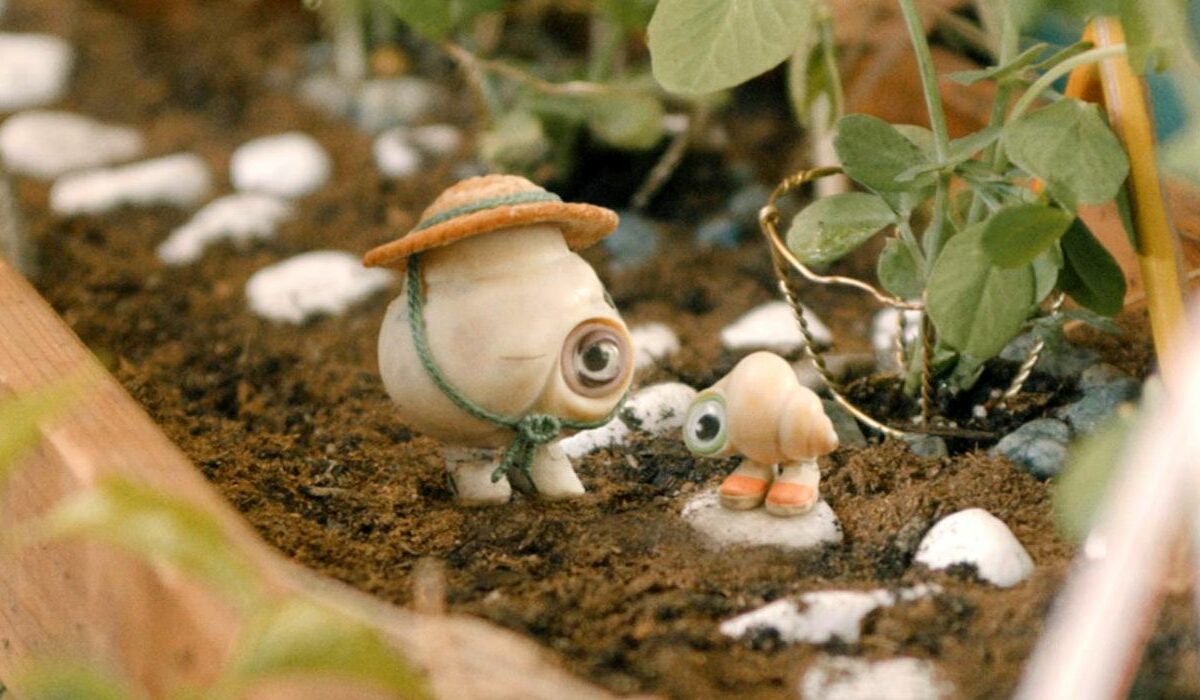 The Lavazza IncluCity Festival Announces its 2022 Official Lineup
The Distillery Historic District transforms into a cinema village from June 27 to July 16 with special events, premieres and a multicultural art exhibit
TORONTO – The Lavazza IncluCity Festival organized by ICFF unveils its lineup ahead of the festival that will take place at The Distillery Historic District. A unique cinema village featuring glamorous special events, international premieres, and a multicultural art exhibit will run from June 27 to July 16, 2022. Thanks to the partnership with The Distillery Historic District and the collaboration of CHIN Radio, the Lavazza IncluCity Festival will present an entertainment experience like no other in Toronto, with countless in-person initiatives for everyone and many guest stars in attendance.
Kicking off a remarkable slate of international premieres and exceptional programming, the festival will feature the Canadian Premiere presentation of Marcel the Shell with the Shoes On directed by Dean Fleischer-Camp on Monday, June 27. The film, starring the talented Isabella Rossellini, tells the adventurous and touching story of Marcel, a little shell in search of his place in the world.
The festival will present the long-awaited Premiere of The Railway Children Return. Based on the 1970 film and book by E. Nesbit, director Morgan Matthews takes audiences once again on a journey about children in the British countryside during World War II. Actress Jean Agutter, who played Roberta 'Bobbie' Waterbury in the original, will be reprising her role for the sequel.
Wrapping up its programming at The Distillery District on Friday, July 15th, the festival will feature the Canadian Premiere of Across the River and Into the Trees, directed by Paula Ortiz and starring Liev Schreiber, Matilda De Angelis and Josh Hutcherson. Based on Ernest Hemingway's novel, the movie captures themes of love, war, youth and age through the eyes of Col. Richard Cantwell.
Among its special screenings, the festival is proud to present the Canadian Premiere of Remember Me: The Mahalia Jackson Story, directed by Denise Dowse, a film celebrating the outstanding gospel singer and civil rights activist Mahalia Jackson. The Lavazza IncluCity Fest is also honoured to present the documentary Steadfast, the Messenger and Message, by Fahim Hamid Ali, a film that follows the life and career of the Honourable Dr. Jean Augustine, founder of Black History Month in Canada.
In celebration of Canada Day 2022, the festival will showcase Drinkwater, the latest film by Stephen Campanelli starring former Will & Grace star Eric James McCormack. The event will celebrate Canada and Canadian cinema with the director and main cast in attendance.
The Lavazza IncluCity Festival will feature the latest work from Oscar-winning director Giuseppe Tornatore (Cinema Paradiso, The Best Offer), Ennio. The multi-award-winning film paints a passionate and exhaustive picture of the Maestro Ennio Morricone through the voices and testimonies of directors and auteurs like Clint Eastwood and Quentin Tarantino.
The festival is also proud to represent Ukraine during its initiative through the screening of the International Premiere of Koza Nostra directed by Giovanni Dota, and will dedicate a special night to the Inuit community of Greenland with the screening of The Red House directed by Francesco Catarinolo.
"As a festival, we are proud to continue innovating ourselves and creating new experiences for our audience. This incredible initiative is the result of the work and passion of the ICFF, The Distillery District and all our sponsors and partners who enable us to always aim bigger and higher," said Cristiano de Florentiis, ICFF Co-Founder and Artistic Director. "We are ecstatic to bring people back together featuring the best of contemporary cinema from over 26 countries with a unique cinema village that is sure to leave a mark in our city."
"The Lavazza Group is proud to present an event that recognizes, supports and celebrates inclusion and diversity; values that perfectly match our company culture and our mission of fostering inclusivity," said Andrea Chiaramello, Head of Lavazza Canada. "I am extremely excited about this brand-new concept of open-air entertainment in the heart of Toronto, a city that, now more than ever before, has become an international hub encompassing countless communities and heritages."
"The Distillery Historic District has a long history of supporting the film industry and nurturing artists of all types, so when the ICFF approached us with the opportunity to host the 2022 IncluCity Festival, we couldn't have imagined a more appropriate partnership," said Nadine Singh, Manager of Events and Sponsorship, The Distillery Historic District. "In addition to watching this impressive line-up of international cinema, I welcome festival attendees to take some time to explore and experience all that The Distillery has to offer."
Partnering with The Distillery Historic District for the first time ever, the Lavazza IncluCity Festival is excited to welcome audiences to its one-of-a-kind outdoor theatres that will line the cobblestone streets of Trinity Street, accompanied by gastronomic delights at The Distillery's patios, while audiences enjoy a film lineup like no other in all of the festival's history.
In addition to the extensive film lineup, the Lavazza IncluCity Festival will also feature an art exhibit titled 6IX Art Outdoors, curated by Mara Cataldi, ICFF Director of Operations. The art installation along Gristmill Lane will feature 13 one-of-a-kind statues, standing over 6 feet tall to be painted by some of Canada's most talented multicultural artists. The art exhibit will be free of charge and open to the public thanks to the support of our sponsors Lavazza, RBC, Hamponstone, and Tridel.
For this year's President of the Jury for the Lavazza IncluCity Film Festival, ICFF is proud to name Andrea Iervolino. Iervolino is the founder of the film finance, production and distribution company AMBI. His films have been screened at countless international festivals and have won numerous awards.
LAVAZZA INCLUCITY FESTIVAL 2022 PROGRAM
Across the River and Into the Trees| Paula Ortiz|UK | Canadian Premiere
After surviving World War II, American war hero Colonel Richard Cantwell begins his journey in a new post-war era. Internally, he is plagued by the horrors he witnessed and the friends he lost. After being recently diagnosed with a terminal illness, the colonel makes his way to Venice to have a quiet weekend of solitude. While driving through the city with his military driver, visiting all the places that haunt his mind, Cantwell has a chance encounter with a 'one of a kind woman'.
Drinkwater |Stephen S. Campanelli|Canada |Toronto Premiere
Mike Drinkwater considers himself a bit of an outsider. While his jobless father, Hank, makes money off insurance fraud schemes, Mike has to navigate the awkward teenage experience alone. To make matters worse, high school bully Luke Ryan and his father Wesley are a constant source of problems for the Drinkwaters. However, when Wallace, a young American girl, moves in next door, Mike's life is changed forever.
In attendance at the Premiere and on the Red Carpet: director Stephen Campanelli, and the main cast Eric McCormack, Daniel Doheny and Louriza Tronco
Eduardo and Mônica|René Sampaio|Brazil |Canadian Premiere
Set in the 1980s against the backdrop of Brasília, the capital city of Brazil, this romantic comedy follows the story of college student Monica and high school student Eduardo as they navigate love and loss. Inspired by the song of the same name by Brazilian band Legião Urbana, Monica e Eduardo is a heartwarming story of how even our greatest differences can bring us together.
The Great Silence|Alessandro Gassmann|Italy|North American Premiere
The film is set in Villa Primic, once a luxurious home, now a creaky old mansion straight out of a ghost story. Reluctantly put up for sale by Mrs. Rose Primic and the two heirs to the Primic's dilapidated fortune, Massimiliano and Adele, the only member of the family who is not at all happy with the decision is the head of the household, Valerio. The film follows Valerio as he discovers he may never have really known his loved ones and, perhaps, not even himself.
In attendance: the director, Alessandro Gassmann.
Hello Again|Maggie Peren|Germany|North American Premiere
Zazie is a young, single woman living in a small flat with her two wacky roommates. None of them are interested in finding love; they simply enjoy their fun and free lifestyle. However, when Zazie receives an invitation to her childhood best friend's wedding, everything changes. Believing that the woman he is supposed to marry is completely wrong for him, Zazie tries her best to put an end to the festivities. But something strange starts to happen that forces Zazie to look more closely at her own life.
Hum Do Hamare Do|Abhishek Jain|India |Canadian Thearical Premiere
Dhruv Shikharhas is in desperate need of a family in order to gain the affection of Anya Mehra, the woman he is in love with, as she wants to marry a man who has a "sweet family" and a dog. In his quest for a couple of fake parents he finds Purshottam Mishra and Dipti Kashyap, who have a history of their own, and adopts them as his real guardians.
Koza Nostra|Giovanni Dota |Italy, Ukraine|International Premiere
When Vlada Koza, a Ukrainian woman, unexpectedly becomes a grandmother she travels to Sicily, from her home in the Carpathian Mountains, to stay with her daughter. While her daughter appreciates the gesture, Vlada is suffocatingly attentive. Without hesitation her daughter kicks her out, leaving her to navigate Sicily alone and penniless. A chance encounter makes her the unlikely governess of the Don Fredo family, a dysfunctional mafia family struggling to evolve in a modern world.
Italian Race|Matteo Rovere|Italy
The De Martino Family has petrol flowing through their veins; building racing cars, raising drivers, and entering races have gone on for generations. When Mario, the patriarch of the De Martino family, is forced to give way to his youngest daughter Giulia, an exceptionally talented driver, their entire way of life is challenged. With conflicts rising between his brother Loris, an unreliable young driver, the De Martino family must heal from their traumas and come together as a cohesive team, ready to win.
Luisa Spagnoli |Lodovico Gasparini |Italy |North American Premiere
The festival will present the film Luisa Spagnoli, the story of the founder of the renowned chocolate brand Perugina. She is a woman of humble origins who decides to take over a small pastry shop on the verge of bankruptcy, hoping to provide a better future for her family. Faced with many obstacles and cultural prejudices, Luisa's determination and skill allow her to overcome these challenges and she becomes a famous and successful Italian business woman overseeing an empire.
Marcel the Shell with the Shoes On |Dean Fleischer-Camp |USA |Canadian Premiere
The film follows the story of Marcel, a seashell, as he ekes out a life alongside his grandmother Connie and their pet lint, Alan. Marcel laments his family's mysterious disappearance, alluding to a tragedy that has withered a once-thriving community down to only two survivors. A chance encounter with documentary filmmaker Dean brings Marcel's story to millions; what ensues is a heartwarming story about the lengths we all go through to find ourselves.
The Old Man and the Little Girl|Sebastiano Rizzo|Italy |Theatrical North American Premiere
This film follows the tale of an old man and his niece as they ride their bikes through the many places lived and visited by renowned American writer Ernest Hemingway. Tracing back through time to WWI the old man leads his niece on a tour of the historical memory of the Veneto Region of Italy.
Old Rascals|Chiara Sani|Italy|North American Premiere
​​Walter and the elderly guests in their rest home are suddenly faced with losing the villa they had lived in for many years. The corrupt countess who owns the property has put the building up for sale in a rigged auction leaving Walter and his friends without a place to go. That is until Renny, Walter's son, returns to his father's aid after 20 years on the run from the police. Renny's plan to save the villa might just work, but along the way, Walter, his son and the residents are faced with a hilarious set of encounters with crime bosses that could put the entire plan and the villa in jeopardy.
In attendance: the lead actor, Lino Banfi.
On Our Watch |Pif |Italy|North American Premiere
Arturo loses his job as a manager at a tech company due to an algorithm he introduced, making his position obsolete. From there, his life continues on a downward spiral, but Arturo is determined to keep himself afloat. He begins delivering food for FUUBER, another large tech company. To hold off the loneliness, Arturo turns to the hologram Stella. The pair quickly become close, but what Arturo is not prepared for is when his free trial with Stella runs out. Forced to work even harder, Arturo discovers that there is much more to love, and freedom, even when a technological giant knows everything about you.
In attendance: the lead actor, Fabio De Luigi.
The Prize |Alessandro Gassmann|Italy  
Giovanni Passamonte is a cynical and self-centered best-selling novelist who has lived an exaggerated life by having many wives and many children. When he finds out that he has been awarded the Nobel Prize for Literature because of his numerous international bestsellers, he plans to drive from Rome to Stockholm for the ceremony. His son Oreste, a personal trainer, and his daughter Lucrezia, a blogger, two losers in his eyes, and his long-time assistant Rinaldo also join him for the trip. In a journey full of unexpected events, they will experience a unique opportunity to face important family dynamics and, in the end, get to know each other better.
The Railway Children Return|Morgan Matthews|UK |Canadian Premiere
London in the midst of World War II is becoming increasingly unsafe; the Watts children – Lily, Pattie and Ted – are therefore sent by their mother to the small Yorkshire village of Oakworth.
After some time, the children settle into their quiet life in the countryside with the help of their Governess Bobby Waterbury, her daughter Annie and her grandson Thomas. One day, the children discover an injured American soldier hiding out in the railyard at Oakworth Station, thrusting them on a dangerous adventure to help Abe find his way back home.
Remember Me: The Mahalia Jackson Story |Denise Dowse |USA | Canadian Premiere
The Lavazza IncluCity Festival will honour one of the most influential singers of the 20th century through a masterpiece biopic Remember Me: The Mahalia Jackson Story starring Ledisi (Selma) and directed by Denise Dowse. The film follows the real-life story of gospel singer Mahalia Jackson from her first steps into the limelight to her pivotal contribution to the civil rights movement of the 1950s and 60s. In a time when civil unrest was high, Jackson's iconic voice helped to spread the message of the civil rights movement.
Rise|Cédric Klapisch|France|North American Premiere
Elise is a very talented young ballerina whose entire career lies before her. When she sustains an injury during a performance at only 26 years old, she learns from doctors that the damage is irreversible and she must put an end to her promising career. To not completely lose touch with her love of dance, Elise quickly becomes close to a contemporary dance troupe she meets by chance. Together with the troupe she will regain both her passion and purpose in life.
Sulla Giostra|Giorgia Cecere|Italy |North American Premiere
This film follows the story of Ada, an elderly woman from Puglia, who has always worked as a housekeeper in a beautiful country villa. Now that the house is for sale, Ada is forced to find another place to live. But Ada is a stubborn and proud woman, and rather than leave to be with her sister and live with a grumpy brother-in-law, she decides not to give the keys back and, in effect, squat in the villa.
In attendance: the lead actress, Claudia Gerini.
Tapirulàn|Claudia Gerini |Italy |North American Premiere
This film marks the directorial debut of Claudia Gerini and revolves around Emma, a young woman tormented by her past who runs on her treadmill for hours to distract her from the everyday reminders of her trauma. Emma ironically works in online counselling where she listens to others and helps them process their problems to help improve their lives. When her sister unexpectedly shows up at her home after being apart for 25 years, Emma is faced with a challenging request that she is afraid she cannot refuse.
In attendance: the director and lead actress, Claudia Gerini.
Too Much family |Pierluigi Di Lallo|Italy|North American Premiere
Alfredo and Felicetta had a perfect life: married for 30 years with 3 beautiful children, and ready to finally live out their dreams of retirement in Portugal. However, not everyone in the family is happy with the couple's decision. In this heart-warming comedy, Filippo, Giacomo, and Maria scheme to stop their parents' plans and, in the process, learn about the true meaning of family and reconnect in ways they could never imagine.
In attendance: the director, Pierluigi Di Lallo.
Tonbi|Takahisa Zeze|Japan |International Premiere
Yasuo grew up an orphan so he knows the importance of a loving family and wants to provide his son, Akira, with the best life possible. Happily married to the love of his life, working a steady job and raising a son are Yasuo's greatest accomplishments. However, when a tragic accident changes everything and leaves Yasuo with a devastated son and a life turned upside down, he must rise to the occasion and provide a stable life for Akira, as he always promised he would.
Una Femmina – The Code of Silence |Francesco Costabile|Italy|North American Premiere
Rosa was just a young girl when she lost her mother. Since then, she has lived with her uncle and aunt in a remote town in Calabria. Soon her mother's involvement with the mafia begins to catch up to Rosa as she learns more about the woman she called her mother. Rosa is then forced to face the consequences of her mother's actions as she makes her own way in the world. Rosa must decide how far she is willing to go to break out of the mafia while being drawn into its immense power and pull. In a dramatic and dark film, audiences follow Rosa as she breaks the code of silence and steps into the unknown.
When Mom is Away…With the Family|Alessandro Genovesi |Italy |North American Premiere
Carlo is unemployed and living an unsatisfactory life with his wife, Giulia, and their three children Bianca, Tito and Camilla. When Guilia is given a promotion only a few days before Christmas, the entire family's way of life is thrown into chaos. Needing to relocate to Sweden for the job, Carlo and Giulia decide to make the trip through Europe in the family's old camper van. Somewhere along the border of Austria, Carlo accidentally hits a strange looking man who is convinced he is the real Santa Claus. Offering him a ride, Carlo and his family embark on quite the adventure!
In attendance: the lead actor, Fabio De Luigi.
FEATURE DOCUMENTARIES
Ennio | Giuseppe Tornatore | Italy | Canadian Premiere
Ennio follows the life and achievements of legendary Italian composer Ennio Morricone. The film goes through his journey from composing music for singers like Paul Anka, to his scores with Sergio Leone, to his Oscar-winning music for The Hateful Eight (2016). The documentary unveils never-before-seen behind-the-scenes moments of Morricone's life and works, as well as those of the people he worked with, making this film all the more emotional, considering Morricone's passing in 2020.
In attendance: the producers, Gianni Russo and Gabriele Costa.
Il colore della fatica|Andrea Gropplero |Italy |North American Premiere
This documentary film follows the story of The Giro d'Italia – Tour of Italy. Established in 1909, the tour is an annual multi-stage bicycle race held primarily in Italy, with occasional passage through nearby countries. The film takes the audience on a journey through the archive footage of the Istituto Luce to experience the emotions of the Giro d'Italia, while also delving into the world of cycling from every angle and perspective. Words, images, legends and testimonies from Davide Cassani, Romano Prodi, Massimo Cacciari, Ernesto Colnago, Giorgio Squinzi, Francesco Moser, Achille Bonito Oliva, Vincenzo Nibali, Felice Gimondi and Enrico Brizzi recount one of the most challenging and rewarding sport races.
The Long Rider |Sean Cisterna|Brazil  
Filipe Leite grew up in Toronto, went to Ryerson University, and is an aspiring journalist. However, he has always had a strong urge to return to his family and that desire only grew stronger as he grew older. Leite's family lives in São Paolo, Brazil so he decides to leave Canada and set out on a mission to return home. Moving to Calgary, Leite begins his trek travelling over 25,000 kilometers solely on horseback.
The Quest for Tonewood |Hans Lukas Hansen|Norway & The Netherlands |Canadian Thearical Premiere
Italy-based violin maker Gaspar Borchardt has one passion: crafting the most beautiful sounding violin in the world. Hoping to make a violin as prestigious as a Stradivarius, Borchardt has his sights set on the perfect wood found in only one location: a remote forest in the Balkans. Nestled between Bosnia and Serbia lies a forest of maple trees but Borchardt's journey to procure the wood will not be an easy one.
The Red House |Francesco Catarinolo|Greenland |Canadian Premiere
Roberto Peroni is a former extreme athlete and adventurer from Italy who fell deeply in love with Greenland. Deciding to stay, he has since dedicated his time to saving the local population by opening the Red House. The Ivis tribe has all but lost their way of life which has led many down paths of alcoholism and suicide. In desolate Tasiilaq, Peroni's Red House works with locals to revive their traditions and way of life that has been practiced for hundreds of years, while opening its doors to sustainable tourism.
Steadfast, the Messenger and Message |Fahim Hamid Ali|Canada|Toronto Premiere
This film is a heartwarming documentary that follows the life and career of the Honourable Dr. Jean Augustine. As the first Black Canadian woman to serve as a federal Minister of the Crown and Member of Parliament, Dr. Augustine remains an immense source of pride and inspiration to the future young leaders of Canada. Her political career spans 12 years and she is widely recognized and applauded for the efforts she made toward equality, multiculturalism and social justice advocacy.
This Your Lagos|Wale Ojo|Nigeria |North American Premiere
Two years ago, William Ashbee lived and worked in Lagos. When he returns for a visit he decides he wants to learn as much as he can about this city and Nigeria, as a whole. He realizes the best way to do this is to live out the lives of three Nigerians, over a 24-hour period each. Each day will represent the lifestyle of one of Lagos' three distinct social classes: the poor, the middle class and the wealthy elite. Part one sees William living the lives of two agberos (hustlers) in the ghettos of Oshodi.
ITALIAN-CANADIAN FOCUS
Calliari QC|Anita Aloisio|Canada |Ontario Premiere
After a remarkable and successful 30-year career in heavy metal and Italian-language world music, Montreal singer/songwriter Marco Calliari is ready to undertake his next creative challenge: writing and releasing music in French. Alongside a few of his peers–Paul Cargnello, Kathia Rock and Mamselle Ruiz–Calliari questions the Quebec music industry's practices and policies regarding language.
Dans une Semanie|Roberto Zorfini|Canada|Ontario Premiere
Roberto is a struggling writer, trying to make ends meet after the mild success of his fantasy novel series. In the midst of Covid-19, with little work to be found, Roberto's editor Michael is approached by an old acquaintance, Edith, who works for a big production studio. Turns out they are on the hunt for someone, like Roberto, who can write a good love story in only one week.
SPECIAL FOCUS: ARCHITECTURE & DESIGN
Inside Renzo Piano Building Workshop|Claudia Adragna & Davide Fois|Italy|Intenrnational Premiere
Francesca Molteni's latest documentary film about Italian architect Renzo Piano gives the audience exclusive access to one of the world's most influential and important architectural firms. Through a succession of meetings, phone calls and project reviews inside the Renzo Piano Building Workshop audiences get a truly intimate perspective. In Genoa, Paris, New York and Los Angeles we witness the miracle of creation, watching project sketches transform into buildings we can see and touch.
Paradigma Olivetti |Davide Maffei|Italy|Ontario Premiere
Adriano Olivetti's death in February of 1960 put the Olivetti company in a challenging position. No longer under the control of the Italian visionary, the company was forced to undergo a change of ownership and business strategy. From Olivetti's death to the 1990s, Olivetti restored its long-standing reputation and became a competitive producer once again while remaining true to the company's roots. In this documentary, audiences will hear from historians and designers along with archived materials on how the Olivetti brand continued its success in a time of uncertainty.
Precise Poetry: Lina Bo Bardi Architecture|Belinda Rukschcio|Brazil
The life and work of Italian-Brazilian architect, Lina Bo Bardi (b.1914–d.92), will surprise anyone unaware of her achievements. Through insightful interviews with friends and colleagues, we come to recognize Lina's courage and charm embodied in the dramatic gestures of her built works, just as it becomes clear her intentions were directed less toward self-expression, and more toward making cultural institutions that embolden, inspire and protect her adopted population.
Prospettiva Olivetti |Davide Maffei |Italy |Ontario Premiere
Olivetti is an iconic Italian company with a keen eye for design for all its products. At the helm was visionary Adriano Olivetti. However, the company was thrown into turmoil after Olivetti's passing in February of 1960. Faced with the potential end of a legacy, audiences will get an insight into the Olivetti management reviving the industrial impact of the company through the 60s to the 80s with archival material showcasing the architectural feats across borders.
SPECIAL EVENTS
George Brown Shorts Collection
On July 5th, the Lavazza IncluCity Festival will open its cinemas to young filmmakers of the future. This evening the George Brown College film students will present their short films to the public for the first time. The collection of shorts will be of various genres and styles highlighting the next great filmmakers in Canada.
Bike Yourself|Pedro Vianna
Hell's Jacket| Jorge Patiño
Naked|Daniela Rojo
Tanbal|Nicolynne Bonoan
Unrecognizable|Chris Sporich
Walkman|Isabella Lopes Guedes
Baci Perugina 100th Birthday
On July 7, the festival will celebrate the 100th birthday of Baci Perugina, the made-in Italy chocolate 'kiss', with a night entirely dedicated to the powerful woman behind this sweet creation, Luisa Spagnoli. For the occasion, the festival will present the North American Premiere of the homonymous film, Luisa Spagnoli directed by Lodovico Gasparini.
ICFF Champions
On July 9 this event, in partnership with Team Revolution, will highlight Italy's imprint in the world of cycling with the powerful documentary, Il colore della fatica by Andrea Gropplero. The documentary will shine a spotlight on the history of The Giro d'Italia – Tour of Italy, one of the most famous and challenging bicycle races in the world.
TJFF People's Choice Award
On July 5th, the Lavazza IncluCity Festival is proud to present the winner of the People's Choice Award from the Toronto Jewish Film Festival. The film will be announced in the coming weeks.
SHORT FILM SELECTION
The Lavazza IncluCity Festival is proud to present the work of up-and-coming filmmakers with short films from all around the world.
1+1|Alaa Mahmoud|Egypt
Al-sit|Suzannah Mirghani|Sudan, Qatar
Arnoos |Samer Battikhi|Jordan
Capitan Didier|Margherita Ferri|Italy
Come|Daniela Lucato|Germany
Cumpari|Cristian Angelo Nigro|Canada
Fellini Forward|Maximilian Niemann, Zackary Canepari, Drea Cooper |Italy
Free Fall|Emmanuel Tenenbaum|France, USA
God Dress You|Mattia Epifani|Italy, Greece
Hummus & Chips|Ahmed Moghazy|UK
Heirloom |Michela Maria|USA, Italy
Nicola Tesla, the man from the future|Alessandro Parrello|Italy, UK
Pieceful day|Gabrielle Mouret|France
Particules Fines|Grégory Robin|France
Season Giovanna|Lopalco|France
Solar Eclipse|Alireza Ghasemi & Raha Amirfazli|Iran
Tangent|Allyson Su|United States
Toronto: Ticks in the SIX|Freddie Lau|Canada
Warsha |Dania Bdeir|Lebanon/France
Where the Leaves Fall|Xin Alessandro Zheng|Italy, China
COMPETITION AWARDS
The Lavazza IncluCity Festival will announce the Excellence, Lifetime Achievement, Best Director, Best Actor, Best Actress and Jury Awards throughout the festival. The People's Choice and Short Film Awards will be announced on Friday, July 16. All film categories, except Special Events, will be eligible for the People's Choice Award.
ICFF is proud to partner with Rogers Communications, ICFF Official Communication Partner, and Christie® for the 2022 edition of the Lavazza IncluCity Festival.
4-Ticket and 6-Ticket Movie Packages are already on sale at icff.ca. The selection process for package holders opens on May 25 at 12:00 PM ET.  Individual tickets are available for purchase on May 25 at https://icff.ca/ from 12:00 PM ET.
Press Accreditation is mandatory at https://icff.ca/press-accreditation-form/.
Download the Lavazza IncluCity Festival Artwork here.
Social Media
Instagram: @icffcanada & @distilleryto
Twitter/Facebook: @ICFFCanada & @DistilleryTO
#ICFF22 #LavazzaIncluCity22 #DistilleryIncluCity
About ICFF
Inaugurated as a grassroots non-profit film festival in 2012, ICFF has developed into a multidisciplinary and multicultural organization that embraces all facets of the arts. ICFF has grown to celebrate over 19 different local communities through premieres and special events, attracting 51,000+ attendees at its summer initiative. For more information, visit https://icff.ca/.
About the 2022 Festival Sponsors and Partners
As Presenting Sponsor of the ICFF, Lavazza Group is committed to supporting the Festival and the art of filmmaking, bringing business and energy to Canada and offering festival patrons the opportunity to enjoy the best in storytelling through film. The Festival is promoted by the Ministry of Foreign Affairs and International Cooperation.
Institutional partners: the Italian Embassy in Ottawa, the Italian Consulate General in Toronto, Montreal and Vancouver, the Italian Institute of Culture in Toronto and Montreal, the Italian Trade Agency, ANICA, and Ontario Place. Major Partners: TIFF, Musée des Beaux-Arts Montréal, SIRT, Take 5 Production, Cineplex Cinemas, George Brown, and Cinémathèque QC. Our Official Communication partner: Rogers Communications. Our Official Airline Sponsor: Delta Airlines. Leading Sponsors: Empire Communities, Cityzen Dominus, Great Gulf, Castlepoint Numa, Barilla, Rio Mare, Campari, and Masi. ICFF Media Partners are: RAI Italia, CHIN Radio/TV, OMNI Television, and Citytv. Premiere Sponsors: Pizza Nova, Eataly, Christie Digital, Luxe Modern Event Rentals, Liuna, Mac Show System, R. Ferri Automotive, Fazzari + Partners, Baci Perugina Italy, Hampton Stone, Aluminum Pergola. ICFF is funded by: the Government of Canada, the Government of Ontario, Telefilm Canada, the City of Toronto, and Ontario Creates.
About The Distillery Historic District
The Distillery Historic District opened in 2003 and is today widely regarded as Canada's premier arts, culture and entertainment destination. It's a national historic site, originally founded in 1832, brimming with creativity and creative people that can inspire dreams and help them come true. The 13-acre walking district is a dramatic fusion of old and new. The space boasts an inspired blend of the largest collection of Victorian Industrial architecture in North America and stunning 21st century design and creativity. The result is an internationally acclaimed village of one-of-a-kind stores, shops, galleries, studios, restaurants, cafes, theaters and more, which was named one of The Coolest Shopping Districts Around the World by The Guardian. Visit www.thedistillerydistrict.com for more information.
– 30 –
For more information or to request interviews, please contact:
ICFF:
Donatella Zanon, ICFF Communications Coordinator
communication@icff.ca
https://icff.ca/
416-893-3966
Distillery Historic District:
Laurie Weir, President
Next PR Inc.
laurie@nextpublicrelations.com
416-735-6919