Enrico Brignano's latest comedy flick sure to be a crowd-pleaser at opening of ICFF Monthly Film Program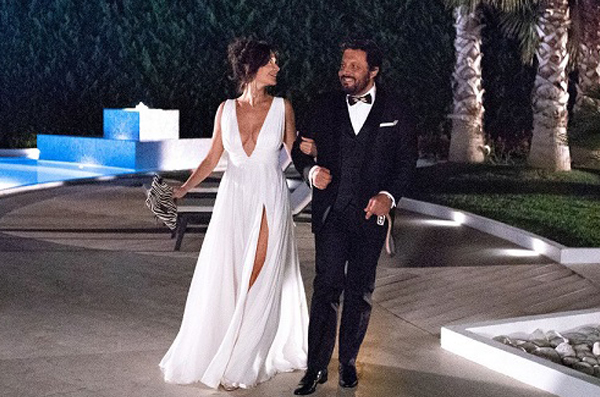 The Italian Contemporary Film Festival kicks off the 2019/2020 season of its monthly film program with the hit comedy Tutta un'altra vita/A Completely Different Life, directed by Alessandro Pondi and starring the hilarious Enrico Brignano, at the TIFF Bell Lightbox Friday.  
TORONTO – The Italian Contemporary Film Festival, presented by IC Savings, ushers in the latest edition of its monthly screening program this Friday, October 18th, in Toronto. The program is made possible through the collaborative efforts of its leading partner institutions, including TIFF, Cineplex Cinemas, the Italian Embassy in Ottawa, the Consulate General of Italy in Toronto, the Italian Institute of Culture, the Italian Trade Agency and the City of Vaughan.
The ICFF Monthly Program hosts two screenings per month from October through May – one at the TIFF Bell Lightbox in Toronto and one at Cineplex Cinemas at RioCan Colossus Centre in Vaughan. ICFF is proud to continue its partnership with the L'Altra Italia Cultural Association, an organization dedicated to the preservation and celebration of Italian heritage in Canada. The organization's members have access to a variety of special events throughout the year, including music concerts, gastronomic celebrations, exclusive film screenings and industry events. L'Altra Italia hosts a traditional Italian dinner reception, catered by star Chef Gianni Ceschia of Culinary Studios, ahead of each ICFF monthly screening, to which all L'Altra Italia members have exclusive access. Co-presidents Cristiano de Florentiis and Maurizio Magnifico say, "The 17th edition of L'Altra Italia features an exciting program of fantastic films, delicious food and an even deeper appreciation of our Italian roots."
To understand how you can become a member of L'Altra Italia today, please visit www.laltraitalia.org or call 416.893.3966.
The monthly screening program kicks off with the International Premiere of Alessandro Pondi's latest comedy, Tutta un'altra vita/A Completely Different Life. Enrico Brignano is sure to leave you in stitches with his hilarious interpretation of Gianni, a miserable taxi driver given the chance to live his dream… if only for a week… when a millionaire leaves the keys to his mansion (and his lavish life) in the backseat of his cab. The film is presented at 9PM at the TIFF Bell Lightbox on Friday, October 18th and at 8.30PM at Cineplex Cinemas in Vaughan on October 24th.
In November, L'Altra Italia presents the multi-award-winning co-production, From the Vine/Dalla vigna, during 'Settimana della Cucina Italiana nel Mondo' in Toronto. The film is directed by Italian-Canadian Sean Cisterna and based on the novel, Finding Marco, by local author Ken Cancellara. Il grande spirito/The Great Spirit will be screened at Cineplex Cinemas in Vaughan.
In December, friend of the ICFF, Claudio Bisio, hits the big screen once again in Fausto Brizzi's "dramedy" Se mi vuoi bene/If You Love Me.
In January, ICFF introduces the inaugural edition of 'La Befana in Vaughan'; a family event celebrating the age-old Italian holiday tradition. The event will cater to viewers young and old, with a feature screening of La Befana vien di notte/The Legend of the Christmas Witch, starring Paola Cortellesi, a selection of traditional sweets and treats, and plenty of children's activities. This special event will be held at Vaughan City Hall on January 5th. In Toronto, Il grande spirito/The Great Spirit will be screened at the TIFF Bell Lightbox on January 24th.
In February, we celebrate the month of love with Valfongo de Biasi's romance drama, Nessuno come noi/None Like Us; an emotional tale of love, its imperfections and often heart-wrenching consequences.
As always, ICFF and L'Altra Italia celebrate International Women's Day in March, with 'Call the Shots: Female Power through Film'. This year's theme is 'Telling THE Story': an in-depth look at storytelling from diverse creative angles – films, novels, journalism, etc. – and through the eyes of some of the most successful women in Canada. The event includes a dynamic panel discussion and interactive conversation ahead of the screening in Toronto on March 6th. The film Una storia senza nome/The Stolen Caravaggio, directed by Roberto Andò will also be presented in Vaughan on March 12th.
In April, ICFF presents Domani è un altro giorno/Tomorrow's a New Day, directed by Simone Spada and featuring a star-studded cast, including Marco Giallini and Valerio Mastrandrea.
In May, the season culminates with the North-American premiere of Gianni Costantino's TuttAPPosto; a timely film about the use of modern technology to stand up against meritocracy.
Media outlets wishing to participate in Friday's event in Toronto are asked to email aallegritti@icff.ca to request media accreditation.
For more information on these events and others, visit www.icff.ca and www.laltraitalia.org, and follow us on Instagram and Twitter at @icffcanada and @laltraitalia.
About ICFF
The Italian Contemporary Film Festival is one of the most important celebrated events of Italian culture in North America, and is the largest Italian film festival outside of Italy. The annual festival attracts thousands of attendees to screenings, industry events, and galas. The ninth annual Italian Contemporary Film Festival will take place from June 18 – 26, 2020. ICFF is presented by IC Savings in affiliation with Fare Cinema, and generously supported by Empire Communities, Cityzen Dominus, Two Sisters Vineyards, Great Gulf Homes and Delta Air Lines – the Official Airline Sponsor. ICFF is funded by: the Government of Canada and the Province of Ontario. ICFF leading partners are: the Italian Embassy in Ottawa, the Italian Consulate General in Toronto, Montreal and Vancouver, the Istituto Italiano di Cultura in Toronto and Montreal, the Italian Trade Agency, ANICA, Cineplex Cinemas, TIFF and SIRT Sheridan. ICFF Media partners are: RAI Italia, CHIN Radio/TV and OMNI Television. ICFF Communication Partner is Rogers. ICFF media supporters are: Dolce Media, Panorama, Italiani.ca, ItalNews, Lo Specchio, MyETVMedia, Snapd. ICFF partners are: L'Altra Italia, Christie Digital, CIBPA, Comites Toronto, George Brown College, ICCO, Italian Heritage Month, Ryerson University, Take 5 Productions, TFCA and York University.
Media Contact:
Anne-Elise Allegritti, ICFF Communications Coordinator – aallegritti@icff.ca – 416.929.3475