Italian Contemporary Film Festival Proudly Launches ICFF at Home, a New Online Program for its 2020 Edition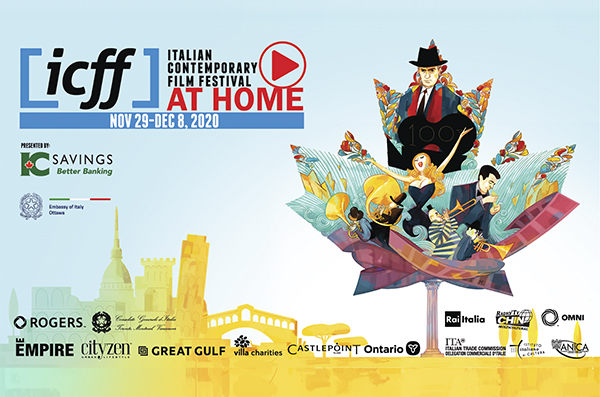 The 9th edition of the ICFF finally opens its doors on November 29th thanks to a brand-new online event that will offer a unique film selection to all film lovers across Canada. The program will include international and world premieres dedicated to Federico Fellini's anniversary, the award-winner at Berlin Film Festival Hidden Away (2020), and the Italian box-office record Tolo Tolo.
In partnership with Rogers Communications, Rogers tvTM customers will have exclusive access to select films in the ICFF at Home collection.
TORONTO – The Italian Contemporary Film Festival, presented by IC Savings, is thrilled to announce the 9th edition of its Festival starting on Sunday, November 29th to Tuesday, December 8th. Following the highly successful Lavazza Drive-In event, that was attended by more than 15,000 people in Toronto, Vaughan and Markham, ICFF is excited to present its ICFF at Home program. This year's initiative includes a new online component brought to viewers across the country thanks to the innovative ICFF platform, created in partnership with Toronto International Film Festival.
ICFF is promoted by the Italian Ministry of Foreign Affairs and International Cooperation and the program is made possible through the collaborative efforts of its leading partners including Rogers Communications, the Italian Embassy, the Consulate General of Italy in Toronto and Montreal, the Italian Institute of Culture in Toronto and Montreal, ANICA and the ITA Italian Trade Agency, and our media partners Chin Radio, Rai Italia and OMNI TVTM.
ICFF at Home brings together 50 expertly curated film and shorts, including Fellinopolis, Hidden Away (2020), and Tolo Tolo, along with filmmakers' presentations, directors' and actors' messages, Q&As and exclusive events. Fans can access the collection with an online Festival Pass that will give them unlimited access for 10 days or, alternatively, through a single movie ticket option. The passes will go on sale starting today, Tuesday, October 27th, until the very end of the festival on Tuesday, December 8th.
Rogers TV service customers will also have exclusive access to 13 ICFF films to create their own at-home film festival directly through Ignite TVTM and Digital TV. Ignite TV customers can simply say "Italian Movies" into their voice remote to explore a curated list of films; or visit Channel 100 to browse the collection and dive into the beauty of Italian filmmaking. The collection will be available starting November 29 until December 8.
"This year's edition has been enormously complex to bring together and we are thankful to the filmmakers, international distributors, the partners and the incredible sponsors who have been flexible and enabled us to put together a great festival during this difficult time," said Cristiano de Florentiis, Artistic Director, Co-Founder, ICFF.
The Festival dedicates this year's edition, poster and opening day to the centenary of Fellini, the great Italian maestro of cinema. The opening online event of ICFF at Home will celebrate Federico Fellini in all his works and influences, thanks to the exclusive presentations and interviews featuring Silvia Giulietti, director of the new Fellini documentary Fellinopolis, and other guests and experts from Italy.
The documentary, presented by ICFF in International Premiere, will show Federico Fellini like never before; images of the world-renowned director working behind the scenes of some of his most acclaimed and ground-breaking films with interviews and speeches from Fellini's closest co-workers and trusted partners, to create a whole new insightful portrait of the auteur. To further recognize the life and the legacy of Fellini in contemporary cinema, ICFF is thrilled to present as a World Premiere the new documentary Fellini Première Fois on the larger-than-life filmmaker, realized by the Italian Canadian director Paul Tana. ICFF will also organize celebratory screenings at the Rio Theatre in Vancouver with two of the most loved works of Fellini 8 ½ and La Dolce Vita.
The Festival will present the North American Premiere of Hidden Away (Volevo Nascondermi) by Giorgio Diritti and starring Elio Germano, winner of the Silver Bear for Best Actor at the 2020 Berlin Film Festival. The film is biopic that follows the incredible life of Antonio Ligabue, one of the most important Naïve Italian painters of the 20th century.
The critically acclaimed and award-winning drama Aspromonte, land of the forgotten (Aspromonte, la terra degli ultimi) directed by Mimmo Calopresti, will also be part of the ICFF at Home collection as a Canadian Premiere, with a captivating and tearful story about a small village in the southern valley of Aspromonte. The film will be included in a special event, presented and organized in partnership with Heritage Calabria, who will bring an authentic Italian culinary experience to the film.
ICFF is thrilled to announce the Canadian Premiere of All my crazy love (Tutto il mio amore folle), the latest drama by Oscar-winning director Gabriele Salvatores. A heartfelt film, inspired by a true story, about a father and a son embarking on a motorbike trip that will take them on an adventure through Unites States and South America.
After the great box-office success that placed the film in fifth place in the list of highest grossing films of all times in Italy, ICFF is proud to present Tolo Tolo, directed, written and starred by the beloved Italian comedian Checco Zalone.
Available on ICFF At Home will also be the biographical drama Hammamet directed by Gianni Amelio and starring Pierfrancesco Favino, winner of the 2020 Coppa Volpi at the Venice Film Festival. The film is breath-taking biopic based on the figure of Italian 1980s controversial leader Bettino Craxi.
ICFF is excited to present the exclusive North American Premiere of Feel Your Memories (Tornare) directed by Cristina Comencini, a powerful drama that revolves around the themes of family and identity, all hidden under a thin vail of mystery.
ICFF also presents the Canadian Premieres for If only (Magari) directed by Ginevra Elkann and Copperman directed by Eros Puglielli; critically acclaimed dramas that have entranced Italian and International audiences alike.
More heart-warming and lively Italian comedies will be available on the platforms with incredible titles like Se mi Vuoi Bene directed by Fausto Brizzi, Odio l'estate directed by Massimo Venier, Airplane Mode (Modalità aereo) by Fausto Brizzi, and Dolceroma by Fabio Resinaro.
"The interest for Italy is on the rise in Canada:  every year, thousands of students study Italian, that is one of the most widely spoken of the "heritage languages"; "Made in Italy" is highly appreciated  in all its expressions:  from fashion to agri-food to technology and culture.   In this context, the visual arts, and cinema in particular, play a leading role, through their ability to convey a dynamic and contemporary image of our country — an image that we must nurture and support. At this very challenging time, when our mobility is severely restricted, we are more determined than ever to make a contribution. And thanks to the dedication and commitment of the ICFF, we will be able to bring Italy into the homes of our Canadian friends.  It will be a different Italian Contemporary Film Festival this year, for sure, but I am certain that its curious and attentive audience will be no less enthusiastic.  And the more so as this is a very exciting time for Italian cinema, going through a deep, vibrant, long-awaited renewal, as one generation passes the torch to the next" said Claudio Taffuri, Ambassador of Italy in Canada.
The 2020 edition of ICFF Industry Day will once again take place at the Toronto Pinewood Studios, where the hosts will conduct the event on Wednesday, December 2nd, and will be broadcasted to all participants through an exclusive link. The event, organized in partnership with ANICA, ITA Italian Trade Agency, SIRT Sheridan, the ICC, Take 5 Productions, Castelpoint and ETV Films, will remotely bring together film professionals, directors, actors and audiences to talk, discuss and present new projects and technologies, offering an incredible networking and learning opportunity for Italians and Canadians alike.
The 2020 Industry Day Italy-Canada Shortening the "Social Distance" will feature Italian and Canadian film excellences on a journey that crosses all barriers and reunites communities and countries through film, creativity and innovation, in a brand new online interactive format.
The event will be centred on two main topics of discussions: Co-Productions and Virtual Productions. Thanks to the great support of ITA Italian Trade Agency and ANICA, with the participation of Roberto Stabile, International Development Manager, Industry Day 2020 will maintain its focus on co-productions and Italian-Canadian relationships, creating opportunities for Canadians and Italians to cooperate and bring to life new projects, born by the union of these two countries. The event will also focus on Virtual Productions and the new technologies emerging from this up-and-coming field that is shaping the future of film sets worldwide.
Every year ICFF Cucina honours of the best Italian culinary traditions through a journey for the senses that combines great films with exquisite food. This year, in celebration of the Italian Cuisine Week in the World, ICFF, in collaboration with Istituto Italiano di Cultura of Toronto, will present two films about two of the most classic and traditional dishes that characterize the cuisine "made in Italy": A Fish Out of the Water a food adventure documentary starring the Italian Michelin-star chef Lorenzo Cogo, on a journey to discover the origin of the iconic Italian recipe of dried codfish, also known as stockfish  and The True story of Tiramisù about the one of the most loved desserts. For the occasion, the films will be accompanied by the possibility of ordering the same dishes online, thanks to the collaboration with Eataly.
ICFF Architettura & Design, presented by Great Gulf, continues its commitment to exhibiting the famous Italian traditions and great innovators, who have shaped the world's very concept of architecture and design. This year ICFF tributes Renzo Piano, world-famous architect who is now currently building the new Toronto Courthouse, with the remarkable documentary Renzo Piano: The Architect of Light, directed by award-winning director Carlos Saura, and presented by renowned architect Silvio Baldassarra. ICFF will also present the documentary Palladio, by Giacomo Gatti, on the extraordinary architect Andrea Palladio and his influence on contemporary North American buildings and design models.
Once more, ICFF Youth will maintain its focus on teaching and entertaining the younger generations through important international films on relevant topics of discussion. This year ICFF has decided to renew and innovate the Youth Program by bringing the festival directly to the digital classrooms, keeping safety as a top priority. Engaging and educating kids is the mandate of the Youth program, that for this year's edition will include the screening of two films showcasing diversity as their main component: The Legend of Sarila, directed by Nancy Florence Savard, and Kuessipan, directed by Myriam Verreault.
"Distanced but connected" is the motto of this 9th edition of the festival that, for the first time since its opening in 2011, will be a nation-wide film festival, entering the houses of thousands of Canadians thanks to its online presence. Films, shorts, special messages and exclusive interactive events is what ICFF at Home is all about: bringing the glamour and the entrainment of the festival to your home.  Get ready to connect and watch the most engaging Italian films brought to you by ICFF!
For more information about the online film festival and ICFF at Home festival program visit www.icff.ca, and follow us on Instagram and Twitter at @icffcanada.
About ICFF
The ICFF promotes discovery, appreciation, and pride in the diverse and ever-evolving Italian heritage in Canada. Inaugurated as a grassroots not-for-profit film festival in 2012, the ICFF has grown to be the largest Italian film festival outside of Italy, and one of the most important and culturally relevant events of its kind.
Since its first edition, the ICFF has screened a collection of hundreds of feature films, documentaries and shorts from more than 30 countries. Every year it attracts an audience of more than 40 thousand attendees in Toronto, Vaughan, Hamilton, Niagara, Ottawa, Montreal, Québec City and Vancouver, to screenings, workshops, industry events and galas. The ICFF is proudly Canadian and showcases international films defying conventional perspectives on complex and challenging issues facing both the Italian and global communities.
About the 2020 Festival Sponsors
As Presenting Sponsor of the ICFF, IC Savings is committed to supporting the festival and the art of filmmaking, bringing business and energy to Canada and offering festival patrons the opportunity to enjoy the best in storytelling through film.
The Festival is promoted by the Ministry of Foreign Affairs and International Cooperation.
Institutional partners are: the Italian Embassy in Ottawa, the Italian Consulate General in Toronto, Montreal and Vancouver, the Istituto Italiano di Cultura in Toronto and Montreal, the Italian Trade Agency, ANICA.
ICFF Leading Partners are: TIFF, Cineplex Cinemas, Guzzo Cinemas e Rio Theatre.
ICFF Leading Sponsors are: Cityzen Dominus, Villa Charities, Castlepoint Numa, Empire Communities, Great Gulf, and our Official Communication partner Rogers Communications.
ICFF is funded by: the Government of Canada, the Government of Ontario and Ontario Creates.
ICFF Media Partners are: RAI Italia, CHIN Radio/TV and OMNI Television.
ICFF Premiere Sponsors are: Lavazza, Campari, Eataly, Rio Mare, Pizza Nova, and Solmar.
ICFF partners are: Christie Digitial, SIRT, Take 5 Productions, Comites in Toronto, Vancouver and Ottawa, Deluxe Entertainment, Musee des Beaux-Arts Montreal, George Brown, ICCO, York University, L'Altra Italia, TCDSB, Ryerson University, TFCA, City of Vaughan, Italian Heritage Month, CFMB, Cittadino Canadese e CIBPA.
Festival Passes for ICFF at Home:
Festival Passes can be purchased online at www.icff.ca, by calling 416-893-3966 in Toronto,
514-771-5222 in Montreal, or Toll Free at 1-833-929-3475.