Industry Day 2020 Focuses on the future of Co-Productions and Virtual Productions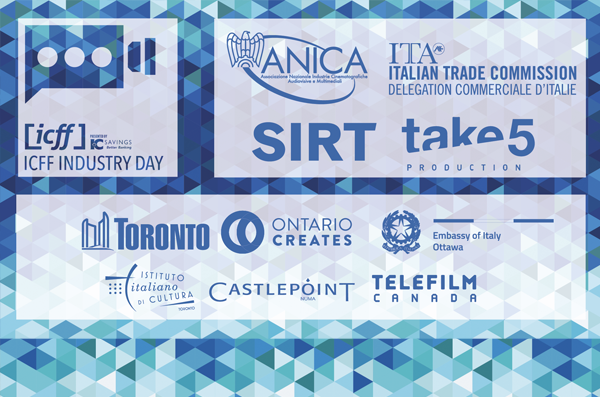 Italy-Canada Shortening the Social Distance
The 2020 edition of ICFF will feature some of the most renowned producers, filmmakers and innovators to discuss and learn about new projects after COVID-19
TORONTO- Italy-Canada shortening the Social Distance in Cinema is the title and theme of this year's edition of the ICFF Industry Day. The event is unlike ever before, ICFF has gathered an impressive delegation of over one-hundred industry professionals from Canada and Italy to participate on a panel as well as a collaborative discussion. Industry Day provides its participants a unique opportunity to learn, share ideas, and inspire each other in a new interactive online format. This event is presented by IC Savings, and will include new features, technologies, and other creative additions to the program that explore the exciting changes in the industry.
ICFF Industry Day is an initiative of the Italian Ministry of Foreign Affairs and International Cooperation, and it is co-presented by ANICA, SIRT Sheridan, ITA Italian Trade Agency, IIC, Take 5 Productions and Pinewood Toronto Studios. The event will be conducted live from Pinewood on Wednesday, December 2nd at 9AM (EST time).
This year Industry Day will host worldwide celebrated producers, who will join the event and give their insightful contribution by participating in the dynamic panels and match making sessions.
Nick Vallelonga returns to Industry Day after the incredible success of last year's edition. The award-winning producer of Green Book will join the Co-Production segment and will answer questions and give tips to filmmakers who are about to embark on a new project.
Luca Barbareschi, Italian-Uruguayan actor, director, producer, television host, and politician, as well as Andrea Iervolino, award-winning Italian-Canadian producer, and friend of the Festival, will also take part in Industry Day. Together with other incredible names from the Italian and Canadian film Industry such as Carlotta Calori, one of Italy's most renowned contemporary producers and founding partner of Indigo Film, these special guests will join and participate in the Industry Day events. They will offer unprecedented help and support to all participants and filmmakers.
Nick Iannelli, Senior Vice President at Take 5 Productions, a company that has worked on the post-production and visual effects of famous Canadian shows such as Vikings, The Tudors, and The Handmaid's Tale, will moderate the first part of the event and participate in the panel discussion.
The event will also have the honor of presenting two of the most important studios from Italy and Canada in a "screen-to-screen" moment, to talk about their latest innovations and the influence that these new technologies will have on future productions. SIRT and Cinecittà will present their most advanced installations; respectively, the ground-breaking LED Production Stage and the cutting-edge 360° Green Screen Studio, and explain how their new sets and technologies are going to change the production workflow in both countries and worldwide.
The Virtual Production panel, moderated by David Dexter the Director at SIRT, welcomes panelists and pioneers in the filmmaking VR field such as Nicola Sganga, CEO and Founder of Nema FX; Andrea Spagna, Marketing and Business Development Advisor for Istituto Luce Cinecittà; Brandan Taylor, President and VFX Supervisor at Mavericks VFX; Manuela Cacciamani, Founder and Producer of Onemore Pictures; and Gennaro Coppola, Partner and Executive Producer of Onemore Pictures.
"Despite all the challenges we had to face due to the current on-going pandemic, we have found a new strength in this online festival, that has opened countless new opportunities to connect like we have never done before", says  Artistic Director Cristiano de Florentiis.
Industry Day 2020 will maintain its focus on co-productions, continuing to create not only networking opportunities but also forming strong foundations for future successful partnerships and projects. The event will also promote Italy and its territories as a perfect landing spot for Italian-Canadian film sets. Through a compelling panel of experts, the initiative will highlight the benefits and opportunities available to all filmmakers who are looking to start a new co-production.
Among many other special guests, the event will feature presentations from Nataline Rodrigues, Director of the Original Programming for Rogers; Simone Catania, Italian producer and Co-Founder of Indyca; Francesca Accinelli, Director, Promotion and Communications, Telefilm Canada; Justin Cutler, Ontario Film Commissioner, Ontario Creates; James Fraser, Vice President and General Manager, Company 3 Toronto; and Marinella Montanari, Co-Founder and Project Manager, Jobel North America.
Following the initial panel discussion, there will be an opportunity for participants to join separate match making sessions with producers and experts in each field. These sessions will include four rooms for participants to choose from. The focus of the first two rooms is learn all the perks and benefits of producing in Canada and Italy. The third room focuses on participants connecting with other professionals looking to co-produce, and a final room dedicated to digital entrepreneurship and new media.
Industry Day will then have the pleasure of introducing Edoardo Ponti, renowned Italian director,  who will join the event and talk about his latest film The Life Ahead, starring his mother, the great Sophia Loren.
The second part of Industry Day will be dedicated to Real Time Virtual Productions, the new horizon of contemporary and future productions which is particularly relevant during this time of social distancing. A very diversified panel consisting of VR experts, company directors and innovators in the field, will disclose their experience, their recent works, and how they have influenced the virtual production landscape in both Canada and Italy.
Among many innovative companies and new filmmaking tools, Industry Day will introduce the latest Matterport Technology, a cutting-edge system that allows for safe virtual location scouting from a distance. This technology is fundamental now more than ever during this on-going health emergency.
ICFF Industry Day is organized by a committee made up of: Cristiano de Florentiis, Artistic Director of ICFF; David Dexter, Director of SIRT Sheridan; Nick Iannelli, Vice President of Take 5 Productions; Moira Romano, Founder of ETV Films; Sari Ruda, Industry Day Coordinator; Mara Cataldi, Director of Operations at ICFF; and Diane Cappelletto, Director of Technical Production Services at TIFF, and is presented through the sponsorship of Castlepoint NUMA, Pinewood Toronto Studios, Ken Cancellara and ETV Films.
Date: Wednesday, December 2nd, 2020
Time: 09:00am – 04:00pm
Instagram: @icffcanada
Twitter: @icffcanada