The Power of Storytelling: Celebrating Women who Inspire, Connect and Influence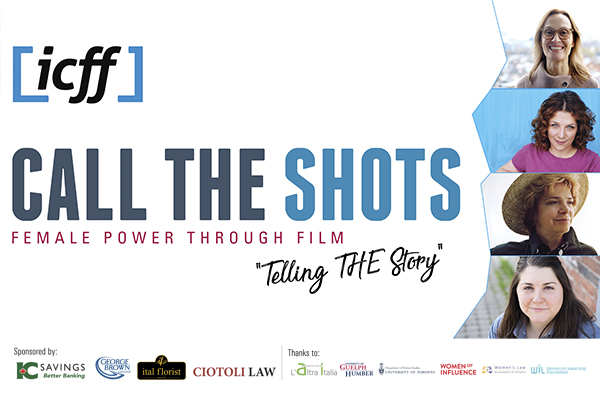 The Italian Contemporary Film Festival celebrated International Women's Day with the 3rd edition of its annual event, Call the Shots: Female Power through Film. Accomplished Italian-Canadian female writers, producers and script supervisors took the stage at the legendary TIFF Bell Lightbox Friday evening for "Telling THE Story", an intriguing and important panel discussion on the unique ways a narrative is conveyed to the audience.
Toronto – The Italian Contemporary Film Festival (ICFF), presented by IC Savings, hosted another successful edition of Call the Shots: Female Power through Film on Friday, in celebration of International Women's Day, before a packed house at Toronto's famous TIFF Bell Lightbox. The audience enjoyed an exhilarating panel discussion with four prominent Italian-Canadian women from the film and television industries. The impressive and highly-accomplished panel included Noelle Carbone, Television Screenwriter and Producer of Canadian series Rookie Blue and Saving Hope; Gabriella Martinelli, Producer of international blockbusters like Romeo + Juliet and Lives of the Saints; Angela Mastronardi, Script Supervisor of film and television hits like The Vow and Mrs. America; and Daniela Saioni, Comedy Writer and Script Supervisor of acclaimed series Suits and the hit comedy Shazam!.
The panelists engaged in a poignant conversation about the need for women's stories to be told and heard, and for any dialogue, regardless of the industry, to include female perspective. The panelists reflected that while there is still much work to be done, great strides have been made in recent years, and the voices of women writers and directors are being heard, now more than ever before. Carbone was clear in identifying a need for continued vigilance when creating strong female roles that are not simply 'male characters in a dress'. She noted, "What is traditionally seen as male strength, we need to stay away from prescribing that to female characters… that's not progress." Meanwhile Gabriella Martinelli remarked that she enjoys working alongside other women because, "there is camaraderie, and we always have each other's backs."
ICFF Director of Operations and founder of the event, Mara Cataldi, highlighted the importance of women supporting each other, and said she created Call the Shots "to give a voice to successful women in their industry, and to empower other women to persevere and never give up." Cataldi added, "We want women to have the support of other women, and to develop a network for them to share their experiences and knowledge. We believe that the stronger the network of women in any industry, the better their chance of success."
The panel discussion, moderated by ICFF Artistic Director Cristiano de Florentiis and Coordinator of Cultural Events Tonia Serrao Soppelsa, was a stimulating conversation about the importance of authenticity in storytelling. Following this was a presentation of the film, The Stolen Caravaggio/Una storia senza nome, directed by Roberto Andò. It is the story of a young woman working for a film producer, and secretly ghost-writing scripts for a popular male screenwriter. Her work and life come unhinged when she receives a mysterious plot about the infamous 1969 theft of Caravaggio's "The Nativity" painting. The film fit perfectly within the context of the event's theme. The young female protagonist is a storyteller whose voice is not heard as her own, and she struggles not only with her anonymity, but also with her ability to uncover and deliver a true story with integrity.
This event was made possible by the outstanding efforts of dozens of volunteers, and the generous support of our sponsors: IC Savings, George Brown College and Ital Florist, who generously donated flowers to all of the women in the audience. The event was presented in partnership with the Women in Leadership Foundation, Women of Influence, the Women's Law Association of Ontario, U of T Italian Studies, and the University of Guelph-Humber.
About ICFF
The Italian Contemporary Film Festival is one of the most important celebrated events of Italian culture in North America, and is the largest Italian film festival outside of Italy. The annual festival attracts thousands of attendees to screenings, industry events, and galas. The ninth annual Italian Contemporary Film Festival will take place from June 18 – 26, 2020. ICFF is presented by IC Savings in affiliation with Fare Cinema, and generously supported by Empire Communities, Cityzen Dominus, Two Sisters Vineyards, Great Gulf Homes and Delta Air Lines – the Official Airline Sponsor. ICFF is funded by: the Government of Canada and the Province of Ontario. ICFF leading partners are: the Italian Embassy in Ottawa, the Italian Consulates General in Toronto, Montreal and Vancouver, the Istituto Italiano di Cultura in Toronto and Montreal, the Italian Trade Agency, ANICA, Cineplex Cinemas, TIFF and SIRT Sheridan. ICFF Media partners are: RAI Italia, CHIN Radio/TV and OMNI Television. ICFF Communication Partner is Rogers. ICFF media supporters are: Dolce Media, Panorama, Italiani.ca, ItalNews, Lo Specchio, MyETVMedia, Snapd. ICFF partners are: L'Altra Italia, Christie Digital, CIBPA, Comites Toronto, George Brown College, ICCO, Italian Heritage Month, Ryerson University, Take 5 Productions, TFCA and York University.
Media Contacts:
Anne-Elise Allegritti, ICFF Communications Coordinator – aallegritti@icff.ca – 416.893.3966