Suit up and Get Ready for the "King of Cool"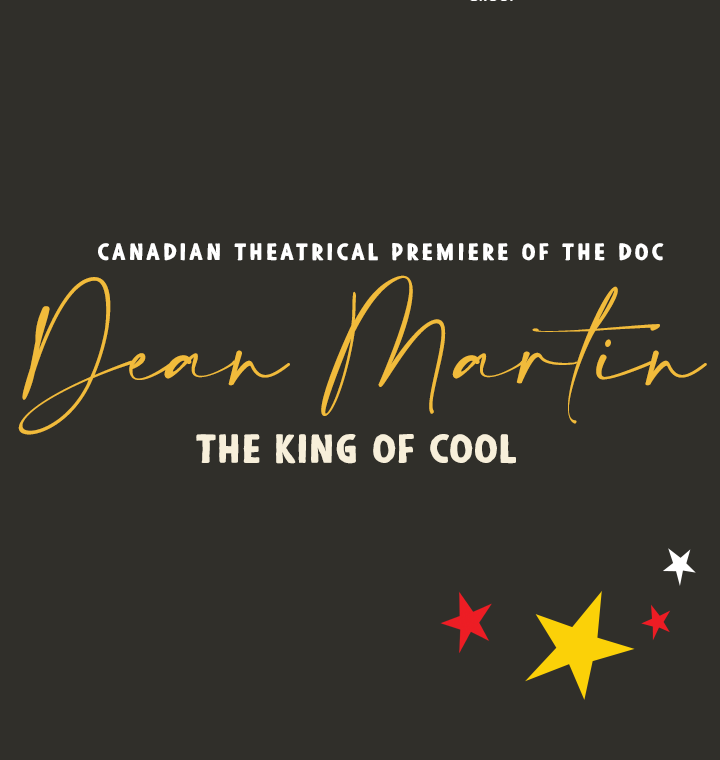 Our wait to return to the cinemas is finally over with the ICFF Canadian theatrical premiere of a revealing new feature documentary about Dean Martin
Suit up and Get Ready for the "King of Cool"
Come celebrate the beloved Hollywood Italian actor, singer and comedian at a creative black-tie featuring the participation of Dean Martin's daughter, Deana Martin
TORONTO – November 4, 2021. The Italian Contemporary Film Festival (ICFF), presented by Lavazza, is proud to announce its grand return to movie theatres on Tuesday, November 30th at 7:00 PM at the TIFF Bell LightBox in Toronto with an extraordinary tribute to the iconic Dean Martin, one of the founders of true "Italian style". This exceptional event will include glamour, fashion, cuisine, music, and naturally, a whole lot of Dean Martin with the Canadian theatrical premiere of the CreativeChaos documentary DEAN MARTIN: KING OF COOL, directed by Tom Donahue (THIS CHANGES EVERYTHING) and featuring Deana Martin and Danny Strong (DOPESICK, EMPIRE) among its executive producers. The screening will be followed by a Hollywood black-tie after-party at the glamorous Ricarda's at 9:00 PM.
With Frank Sinatra and Jerry Lewis, Dean Martin was the man to know in the '40s and '50s, and later, in the '60s, a founding member of the "Rat Pack". Born Dino Paul Crocetti, the child of working-class Italian immigrants, he grew up to be a boxer, a singer, a comedian and an actor. He was one of the most beloved performers of all times thanks to his charisma and to his unmistakable style which made him the epitome of cool fashion.
Martin was the personification of a multi-faceted and multi-talented entertainer capable of knocking the Beatles off the charts with "Everybody Loves Somebody". A suave and handsome character, Martin was best known for his laid-back demeanour, immense charm, and self-assurance that made him into one of Las Vegas's most revered performers for nearly four decades.
Thanks to the steadfast support of the Italian Embassy in Canada, the Italian Consulate in Toronto, and the IIC, the ICFF is thrilled to announce the participation of Deana Martin, daughter of the extraordinary entertainer; Deana achieved success early in her career in films, theatre and television, then quickly added to her repertoire — recording artist, best-selling author, nationally syndicated radio host, licensed pilot, and entrepreneur.
The ICFF is honoured to present Deana with the ICFF Excellence Award to recognize her remarkable and inspiring career, and her commitment and dedication to upholding her father's legacy and the Italian lifestyle abroad.
With the support of Rogers Communication, ICFF official communication partner, and our media partners CHIN Radio, OMNI Television and RAI Italia, ICFF is delighted to host on stage, together with Deana Martin, Tom Donahue, director of DEAN MARTIN: KING OF COOL, Ilan Arboleda, producer, and the film's executive producers, Paul Barry and John Griffeth. The ICFF Industry Day is proud to welcome the filmmakers for an 'In Conversation' panel at its 9th edition which will be held on November 30th and December 1st at Pinewood Toronto Studios.
The documentary offers an insightful and unique analysis of Dean Martin, including his complicated relationships with friends and business partners Jerry Lewis, Frank Sinatra, Sammy Davis Jr., and many others. Following the legend in all his endeavors, the film gives us a new look at one of the most beloved and celebrated entertainers to ever grace a stage through the interviews with admirers such as critic Gerald Early, actor Jon Hamm, Hip-Hop artist RZA, and Alec Baldwin.
"Dean Martin's fame was not only thanks to his time spent on-stage," said Artistic Director of ICFF, Cristiano de Florentiis, "but also off-stage in almost everything he did from the way he talked, walked, swung a golf club and carried himself, thus earning the title, The King of Cool." With his one-of-a-kind personality and signature good looks, Martin became a fashion icon and coined the transformation of 'Italianity' abroad, dismantling the long-lived stereotype surrounding Italian immigrants as low-class, uneducated, and, at times, even criminals.
As Dean Martin was often heard to say, "In a tuxedo, I'm a star. In regular clothes, I am a nobody", the 'ICFF King of Cool Night' will be a Hollywood black-tie special event honoring the legacy of the performer and one of the highest icons of fashion for the Italian community. The glamourous night will feature exquisite Italian food in celebration of the Week of Italian Cuisine in the World with dishes inspired by Dean Martin's all-time favourites.
Elvis Presley worshipped him and many called him "the coolest man who ever lived." In honour of his effortless talent and captivating vocalizing, the festival is proud to pay homage to Dean Martin in all his aspects and facets that made him the icon we all know and love.
DEAN MARTIN: KING OF COOL (2021)
Director: Tom Donahue
Producer: Ilan Arboleda, Tom Donahue
Executive producers: Leonardo DiCaprio, Jennifer Davisson, Phillip Watson, Paul Barry, Danny Strong, Steve Edwards, Deana Martin, and John Griffeth
Tickets are available for sale on the ICFF website. Visit icff.ca/dean-martin-king-of-cool/ for more details and to purchase your tickets now.
EVENT DETAILS
Tuesday, November 30, 2021
Time: 7:00 PM – Canadian Theatrical Premiere of DEAN MARTIN: KING OF COOL at TIFF Bell Lightbox
Screening will be followed by Q&A with Special Guests
350 King St W, Toronto, ON M5V 3X5
Time: 9:00 PM – Exclusive After-party at Ricarda's
134 Peter Street, Toronto, Ontario M5V 2H2
Attire: Creative Black Tie
TICKETS
Film Screening + After-party $120*
Film Screening Only $20*
HST and service fee not included *
ICFF Media Contact