Drive-In Festivals are Back! The Lavazza Festival is playing at Ontario Place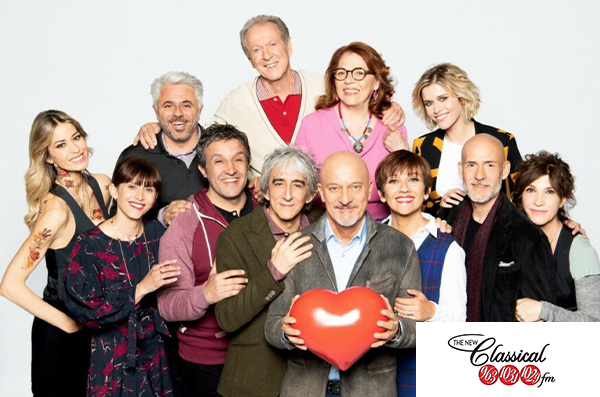 At last, there's an alternative to streaming media endlessly on our TV screens and computer monitors. While we can't go back to indoor cinemas yet, there is a place to see films, one that most of us thought had long disappeared from view. It's the drive-ins, a suburban sensation in the Fifties, which slowly fell out of favour with mainstream audiences. When the Docks Drive-In, the last Toronto based venue, ceased its screenings in 2017, it was easy to assume that it was all over for that form of entertainment.
Now, thanks to COVID-19, drive-ins are making an improbable comeback. Sitting in a car with your family or closest friends is the very definition of being in a social bubble. With the proper sound coming from a radio—always an issue before—and great digital projection, drive-ins are technically far better than the old days, and you can enjoy them while being safe from the pandemic.
The people with the great idea to revive drive-ins in Toronto are the organizers of the Italian Contemporary Film Festival (ICFF) and Lavazza along with such sponsors as Christie Digital, the Italian Embassy, the Canadian Red Cross and Ontario Place, where the festival is taking place. All week, there have been red carpets and speeches and lots of pomp and circumstance, all in a huge parking lot. As the world gets stranger, this innovation offers fun and film together. And who doesn't enjoy the idea of that?
The festival is running for 12 days and it's right in the middle now, having begun on Monday, July 20 with its concluding date being Friday, July 31. The organizers have made the festival international with offerings from the United States, Great Britain, India, China, France, Brazil and, of course, Italy.
The opening night film, The Cuban, is Canadian but, as its title implies, takes place in Havana as well as Toronto. The flavour of a truly cosmopolitan event is enhanced with the key casting of Lou Gossett, Jr. as the title character, a former Jazz musician, stuck in a nursing home in Canada, suffering from dementia and the beginnings of Alzheimer's. What could be a bleak tale about the end of life is turned into a celebration of music through the intervention of a young Afghani care-worker (Ana Golja) who brings back some of his memories through her empathy mixed with lots of Cuban Jazz recordings. The most impressive part of the film is the music, composed and led by pianist Hilario Duran, who came to Toronto from Cuba in 1998 and has won multiple Junos since that time. Gossett, too, is excellent as the stricken "El Guitarrista," once the finest guitar player in Cuba, now reduced to living out his days among people who only want to keep him alive without caring about his soul. Gossett is able to capture the stark feeling of terror patients with dementia must endure when they suddenly lose their way and struggle to regain their composure. Golja is not tasked to do anything so dramatic, but she's very good and, as a musician, is able to sing to El Guitarrista's playing in a key scene. Director Sergio Navarretta tones down the inevitable melodramatic moments, allowing The Cuban to be a nice summer's entertainment for happy local audiences. (It will be shown  again next Tuesday at the Oakville Festival of the Arts along with An Officer and a Gentleman, which features Gossett's Oscar-winning performance as a Marine drill sergeant.)
One of the many selections from Italy, If you love me (Si mi voui bene) is a comedy with dramatic overtones, fully in keeping with the tone of the festival. (It will be shown on Saturday night.) Veteran actor and TV presenter Claudio Bisio makes this film worthwhile through his insolent and charming presence. Bisio plays Diego, a lawyer suffering from extreme depression. His closest family and friends ignore him because of their own woes: his divorced mother wants another lover; his father wants to relive the day when he almost beat a tennis champ; his best friend has never met the right man; his daughter is a workaholic; his brother is an unsuccessful painter; and the couple he most enjoys are locked in an endless struggle between being a meat eater (him) and a vegan (her). The first 20 minutes are worth the price of admission. Bisio casually and very amusingly explains that no one cares whether he lives or dies so he decides to end it all. But there are more details to process in the morning when, by accident, he hasn't drowned—and, inevitably, he takes back his desire to die. Soon, he takes on the fool's errand of solving his friends and family's problems. Special mention must be made to the hang out spot/café Small Talk, where Diego hatches his plots; it's so nicely conceived that it deserves to exist in real life.
From Britain comes Fisherman's Friends, another pleasant film filled with music. (It screens on Sunday night.) Here jazz has been exchanged for sea shanties, and the setting is in Cornwall, also on the Atlantic, but hardly Cuba. Based in the lovely village of Port Isaac, the story of a cappella group Fisherman's Friends is real enough: they emerged in 2010 with a beautifully sung album of traditional songs, which proved to be a big hit across Britain. The producers of this feature bought the rights to their story and created a film that dramatizes their rise to fame. The story they've created is slight but engaging. Danny (Daniel Mays), a talented but out of sorts music exec, is tasked to sign the Cornish singing band as a prank. But Danny not only organizes a contract, he also records the band at the local church, which happens to have perfect acoustics. When his bosses refuse to sign the group, Danny goes elsewhere and eventually gets the attention of London and big money. While this all takes place, Danny falls in love with real life (Cornwall), the band and its leader Jim (James Purefoy) and Jim's daughter Alwyn (Tuppence Middleton, a  perfect British name). Fisherman's Friends is a charming film, which could have been great if the producers and director Chris Foggin had let the villagers and fishermen show how they live and have fun in Cornwall. Instead, it's scripted in a way that never lets the essence of the area and its people come alive naturally. But, honestly, that's too hard an assessment. This is a nice film and a fine selection for the festival. (Will Canada ever produce a film set in Newfoundland as good as this?)
I recall writing an article in the Nineties about attending a Goldie Hawn comedy at a drive-in on the Bruce Peninsula with my then very young kids and seeing their delight when the movie screen lit up after darkness fell. It felt like an experience that they would never have as adults but two weeks ago, they saw a double bill in a Guelph drive-in of Men in Black and Ghostbusters. They loved it. Drive-ins are back and the Lavazza festival deserves praise for celebrating its return.
—
To view the full article, click here.