Canadian Director Sergio Navarretta to Head Jury at the Lavazza Drive-In Festival, June 27 to July 18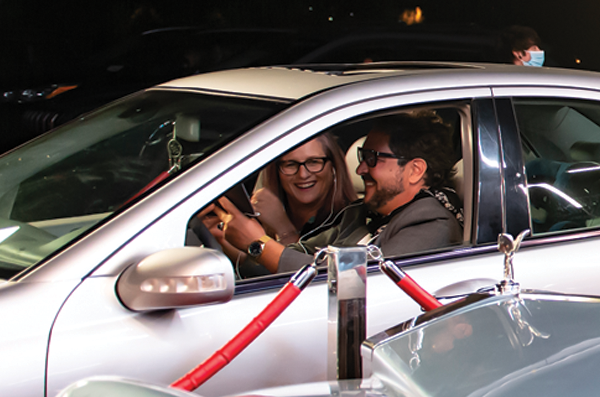 The ICFF unveils the 2021 edition plan that includes the celebration of its 10th anniversary and the 2nd edition of Lavazza Drive-in Film Festival.
Screenings in person at Ontario Place, Toronto and in many Canadian cities, plus an online program nation-wide.
TORONTO – The ICFF, presented by Lavazza, announced the appointment of award-winning Canadian director Sergio Navarretta as the Honourary President of the Lavazza Drive-In Jury, and revealed the dates for its highly anticipated program this summer The screenings will kick off on June 27th, Canadian Multiculturalism Day, and run until July 18th at the landmark venue of Ontario Place, Toronto and in several other major Canadian cities. The festival will be a celebration of ICFF's milestone 10th anniversary and the 2nd edition of the Lavazza Drive-In Film Festival, organized in collaboration with CHIN Radio/TV.
Following the outstanding success of last year's opening film, The Cuban, a moving story about love, friendship and the healing power of music, the ICFF is proud and delighted to welcome Navarretta, director of the movie, in this new major role. As the President of the Jury, Navarretta will share his professional expertise to award the best films and creators of contemporary cinema. The Cuban made its Canadian debut at the 2020 Lavazza Drive-In winning the Best Actress Award for Ana Golja's extraordinary performance as Mina. The Cuban stars Oscar-winner Louis Gossett Jr., Oscar-nominee Shohreh Aghdashloo, Lauren Holly, Giacomo Gianniotti and features the music of Grammy-nominated piano virtuoso, Hilario Durán.
Sergio Navarretta is a remarkably talented filmmaker who made his directorial debut with Looking For Angelina, followed by The Colossal Failure of the Modern Relationship, winning the ICFF Award in 2015.
"I am incredibly grateful to Cristiano de Florentiis, ICFF and the Lavazza Drive-In Film Festival for this prestigious honour to preside as president of the Jury," said Sergio Navarretta. "At an unprecedented time, during a global pandemic when Torontonians are eagerly seeking entertaining experiences and have a desire to see cinema communally again, I am thrilled to play a role in this unique, uplifting, and culturally significant film festival."
"I am thrilled to announce this year's festival program and introduce Sergio Navarretta, inspiring Canadian director and dear friend of the festival, who will preside the Lavazza Drive-In jury," said ICFF Co-Founder and Artistic Director, Cristiano de Florentiis. "It is without a doubt an honour to have Sergio's guidance and support during this 2021 edition, and we look forward to having him on our stage during this exceptional summer initiative."
Given the success of the 2020 Lavazza Drive-In Film Festival and thanks to the support of Rogers Communications, ICFF's official communication partner, the ICFF is excited to incorporate more communities into this year's event, expanding and engaging new cultures and celebrating Canada's diversity. The Festival, in collaboration with Italian Minister of Foreign Affairs, will also maintain its special focus on Italian contemporary cinema through notable screenings in several major Canadian cities and virtual experiences offered nationwide through the ICFF digital platform.
The ICFF's summer initiative will offer unique experiences, with open-air theatres, drive-in venues and virtual screenings available across Canada. Preparations are now in full swing and early bird packages are available at https://bit.ly/3mwWHAe. The official selection for this year's Lavazza Drive-In Film Festival, along with the ICFF Festival Selection, will be announced in May, and will not fail to include an impressive list of unmissable titles.
For further information please contact: communication@icff.ca
For interview requests with Sergio Navarretta, please contact: Sarah Goddard, sarah@sarahgoddardpr.com