50th Anniversary edition of the Giffoni Opportunity to be celebrated in Toronto in 2020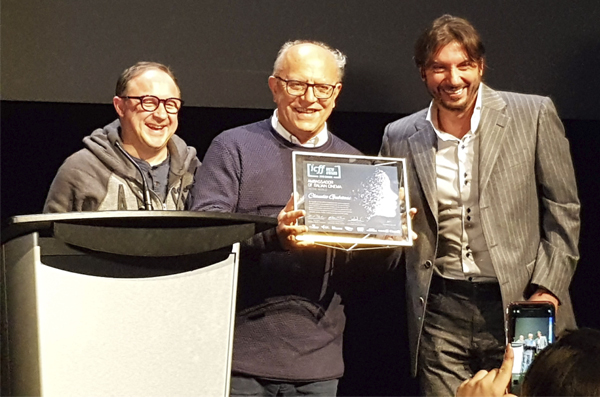 Founder and Artistic Director of the renowned Giffoni Opportunity, Claudio Gubitosi, announced an important collaboration with the ICFF earlier this week, which will see Toronto as one of 15 cities to present a segment of the film festival for young viewers next year, as part of a special celebration of the organization's 50th anniversary.
TORONTO – The Italian community in Toronto welcomed with open arms Founder and Artistic Director of the Giffoni Film Festival Claudio Gubitosi, as well as President Piero Rinaldi, who visited recently as honoured guests of the Italian Contemporary Film Festival, presented by IC Savings. Gubitosi named Toronto one of 15 cities, outside of the Festival's hometown of Giffoni, Italy, to participate in the 50th Anniversary Edition of the Giffoni Opportunity in 2020. The milestone will also be celebrated in 50 other Italian towns.
Gubitosi said, "It's been a huge surprise… a city and a country that have welcomed Giffoni with great emotional investment and so much passion. We have created a strong cooperation, most importantly with the Festival here in Toronto, but also with key players in the arts, culture and education, including many from the Italian-Canadian community, which is so strong here."
The two organizations will work together to create a Toronto hub for all things Giffoni in Canada, and ICFF will act as its North-American headquarters. Gubitosi, who established the film festival for young movie lovers in 1971, has dedicated his life to the spectacular annual event, which sees thousands of children and budding filmmakers flood the Southern Italian city every summer. Students from every corner of the globe arrive in droves for two weeks of intensive cinema studies; from filming to editing, lighting, sound, acting, screenwriting and everything in between, more than six-thousand participants get a crash course in cinematography and adjudication. In 2020, a Canadian delegation will have the opportunity to join students from all over the world in Italy, for the special 50th anniversary celebration of the most important youth film festival in history.
"I went to Giffoni for the first time when I was eight years old, and it changed me forever. It's where my passion for film and the festival life began, so it's truly an honour now to be representing the organization here in Canada," says ICFF Co-Founder and Artistic Director Cristiano de Florentiis. The ICFF, which presents more than 150 films each year in eight cities across Canada, is preparing for its ninth edition in June, where a special emphasis will be placed on the 100th anniversary of the birth of Italian film legend, Federico Fellini.
Gubitosi certainly made the most of his visit to Toronto, meeting with government officials and some of the most important players in the film industry and education sector, to present his life's work and the many exciting plans he has for the future. Opportunities for collaboration were discussed with several high-level officials, including Vaughan Mayor Maurizio Bevilacqua, Minister Michael Tibollo and former MPP Laura Albanese, as well Consul General of Italy to Toronto Eugenio Sgro, members of the Italian Institute of Culture, including Director Alessandro Ruggera, and Toronto's Italian Trade Commissioner Matteo Picariello. New and exciting partnerships were established with the superintendents and trustees of both the York and Toronto Catholic District School Boards, which are partners of ICFF Youth, the junior festival held each year in April. Gubitosi also had the chance to visit the famous Pinewood Toronto Studios and talk shop with top industry professionals from SIRT (Sheridan Screen Industries Research and Training Centre), inlcuding Director David Dexter, and Executive Vice President of Take 5 Productions Nick Iannelli. Telefilm Canada has also agreed to collaborate with Giffoni on upcoming projects.
So what exactly does the future hold for Giffoni? Gubitosi says the 2021 edition will not be marked as the 51st annual event, but rather "Year +1", so as to allow future generations of participants to pave their own way, unburdened by the Festival's rich history, and free to grow and explore unreservedly.
For more information on, visit www.icff.ca, and follow us on Instagram and Twitter at @icffcanada.
About ICFF
The Italian Contemporary Film Festival is one of the most important celebrated events of Italian culture in North America, and is the largest Italian film festival outside of Italy. The annual festival attracts thousands of attendees to screenings, industry events, and galas. The ninth annual Italian Contemporary Film Festival will take place from June 18 – 26, 2020. ICFF is presented by IC Savings in affiliation with Fare Cinema, and generously supported by Empire Communities, Cityzen Dominus, Two Sisters Vineyards, Great Gulf Homes and Delta Air Lines – the Official Airline Sponsor. ICFF is funded by: the Government of Canada and the Province of Ontario. ICFF leading partners are: the Italian Embassy in Ottawa, the Italian Consulate General in Toronto, Montreal and Vancouver, the Istituto Italiano di Cultura in Toronto and Montreal, the Italian Trade Agency, ANICA, Cineplex Cinemas, TIFF and SIRT Sheridan. ICFF Media partners are: RAI Italia, CHIN Radio/TV and OMNI Television. ICFF Communication Partner is Rogers. ICFF media supporters are: Dolce Media, Panorama, Italiani.ca, ItalNews, Lo Specchio, MyETVMedia, Snapd. ICFF partners are: L'Altra Italia, Christie Digital, CIBPA, Comites Toronto, George Brown College, ICCO, Italian Heritage Month, Ryerson University, Take 5 Productions, TFCA and York University.
Media Contact:
Anne-Elise Allegritti, ICFF Communications Coordinator – aallegritti@icff.ca – 416.929.3475