PLOT : Girgenti, 1920. Nofrio and Bastiano are gravediggers, but also "professional amateur" actors engaged in staging the tragicomedy "La trincea del rimorso, ovvero Cicciareddu e Pietruzzu". Giovanni Verga's 80th birthday brings Luigi Pirandello back to his hometown, and the death of the playwright's nanny encourages his meeting with the two gravediggers. The Maestro is in a creative crisis, and by secretly observing the rehearsals of the amateur company of Nofrio and Bastiano he draws inspiration for one of his most important works, Six Characters in Search of an Author. What happens on stage is mixed with what goes on behind the scenes, and Pirandello, a silent witness to the premiere of the eccentric duo, collects ideas for the debut of his new creation, to which Nofrio and Bastiano will be invited. Reality and fiction, drama, and comedy meld together gracefully in this pleasing and fanciful film, which offers up illustrious cameos (including Renato Carpentieri in the shoes of Giovanni Verga and Luigi Lo Cascio playing the
theatre company leader in charge of Six Characters).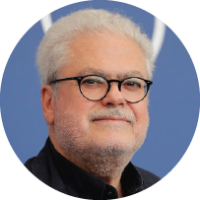 Roberto Andò. debuted as assistant director, working with Francis Ford Coppola, Federico Fellini, Michael Cimino and Francesco Rosi, among others. In 1986 he debuted on stage directing La foresta-radice- labirinto, a puppet theatre work based on an Italo Calvino's original story and with puppets drawn by Renato Guttuso. After several documentary films, Andò made his feature debut film in 2000, with Il manoscritto del Principe, produced by Giuseppe Tornatore. His debut novel, Il trono vuoto, won the Campiello prize for best first work; from the novel he derived the film Viva la libertà, with whom he won the David di Donatello for Best Script and the Silver Ribbon for Best Screenplay.

Length 1h 43min
Year 2022

---
Cast Toni Servillo, Salvatore Ficarra, Valentino Picone, Renato Carpentieri, Donatella Finocchiaro, Luigi Lo Cascio, Galatea Ranzi, Fausto Russo Alesi,
Distribution True Colours - Glorious Films
Production BiBi Film, Tramp Limited, Medusa Film, Rai Cinema
Monday, July 17

9:30 PM

Outdoor

The Distillery District (Trinity Cinema)

Toronto

Wednesday, July 5

9:00 PM

Outdoor

Parc Dante

Montréal

June 30-July 10

Online Platform
---