The pandemic brought new audiences to drive-ins. Now, they're revving back to life this summer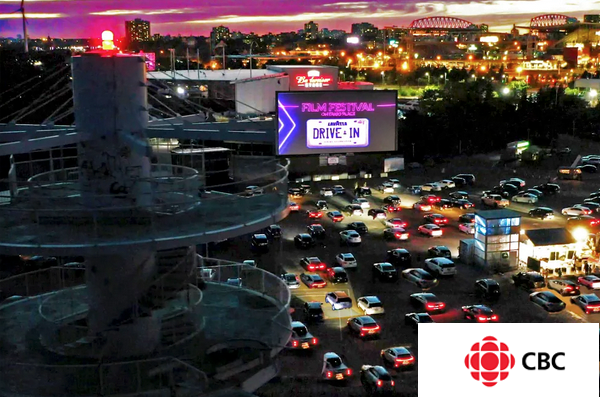 The twinkling lights of last year's Lavazza film festival, which features a program of Italian and international cinema. (ICFF)
Driving in on the red carpet 
Drive-ins are also once again playing a key role in Ontario film festivals.
On Sunday evening, attendees at the second edition of the Italian Contemporary Film Festival's Lavazza drive-in festival will watch the Canadian premiere of Robert De Niro's new movie, The Comeback Trail.
In a homage to the glamour of festivals, they'll even drive over a red carpet on the way in to Toronto's Ontario Place, where the festival is being held.
"It's a special screening; we tried to invent a lot of things for it," said Cristiano de Florentis, artistic director and co-founder of the festival.
"Instead of having hot dogs or popcorn, we are going to serve a full dinner, prepared by an Italian celebrity chef … with volunteers serving the audience with Rollerblades."
The Toronto International Film Festival will also once again turn to drive-ins this coming September, announcing last week that it'll combine indoor, outdoor and in-car screenings.