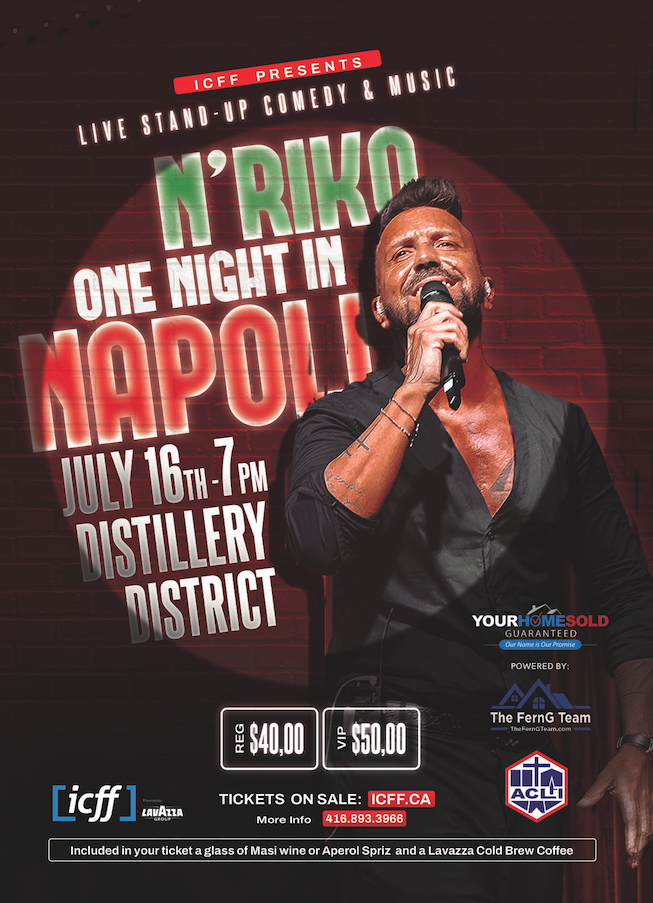 Laughs and good time guarantee! Show in English (or something that sound like it!)
``ONE NIGHT IN NAPOLI``
Stand-Up Comedy by N'Riko
Summer nights in Toronto are magical, and what better way to spend them than enjoying a show in the vibrant Distillery District? This historic neighbourhood is known for its charming cobblestone streets and Victorian-era buildings and now it's the perfect backdrop for an evening of comedy, music, and drinks.
The star of the show is N'RIKO, a one-man show who will have you laughing, singing, and dancing with his hilarious and energetic performance. His show, "One Night in Napoli" is a tribute to the vibrant and colorful culture of Naples, Italy…and don't worry if you don't speak Italian – the show is in English (or at least something that sounds like it!). N'RIKO's humor is universal, and his jokes transcends language barriers!
But the entertainment doesn't stop there. Included in your ticket you can enjoy a refreshing Aperol Spritz or a glass of Masi wine that perfectly complements the lively atmosphere of the show.
So why not gather some friends and head down to the Distillery District for a night of laughter, music, and good vibes? With N'RIKO's "One Night in Napoli," you're guaranteed to have a blast!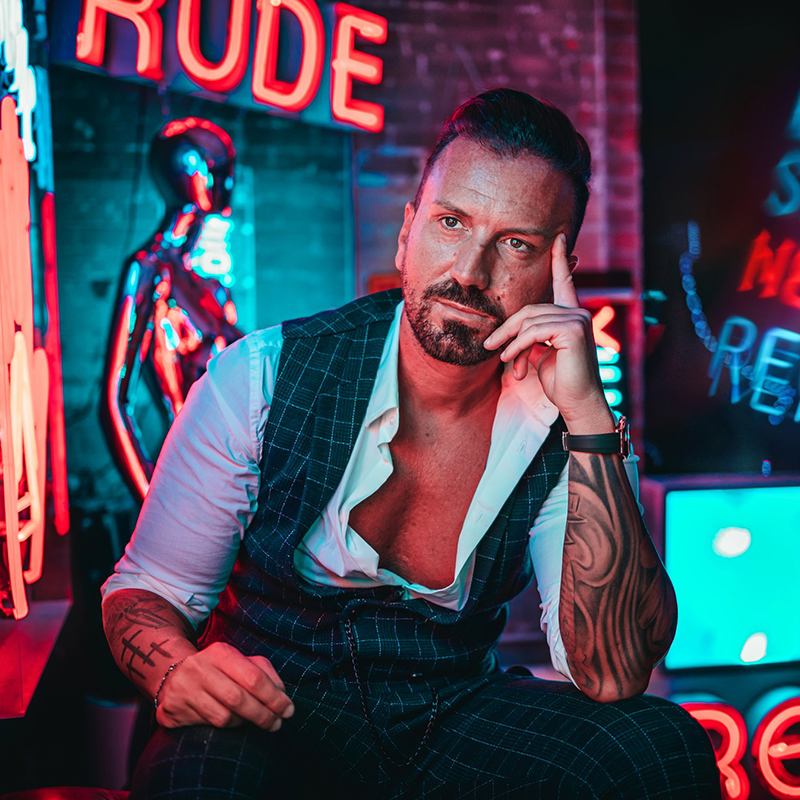 Comedian/Singer
Enrico Rennella
N'Riko is a talented singer / comedian from Naples, Italy. His style is unique, effervescent and down-right hilarious. He has won the love of his audiences worldwide and continues to amuse and entertain with always fresh and new material. He is Italian, that's for sure, but he spent many years of his life in the City of Lights. Born from the union of a Neapolitan father and a Parisian mother, N'Riko carries within him the perfect mixture of "la dolce vita" and the "savoir faire" from two of the most beautiful cities in the world. N'Riko was born in Paris, on April Fool's day … destiny? Probably so. At the young age of one, he moved to Naples, Italy, where he did most of his growing up and where he mastered the art of comedy. As a young man, N'Riko worked hard to achieve his dreams. He tackled every and any job available to provide for himself and carve out his career as a future showman.