FENDI Lands in Toronto for a Special Tribute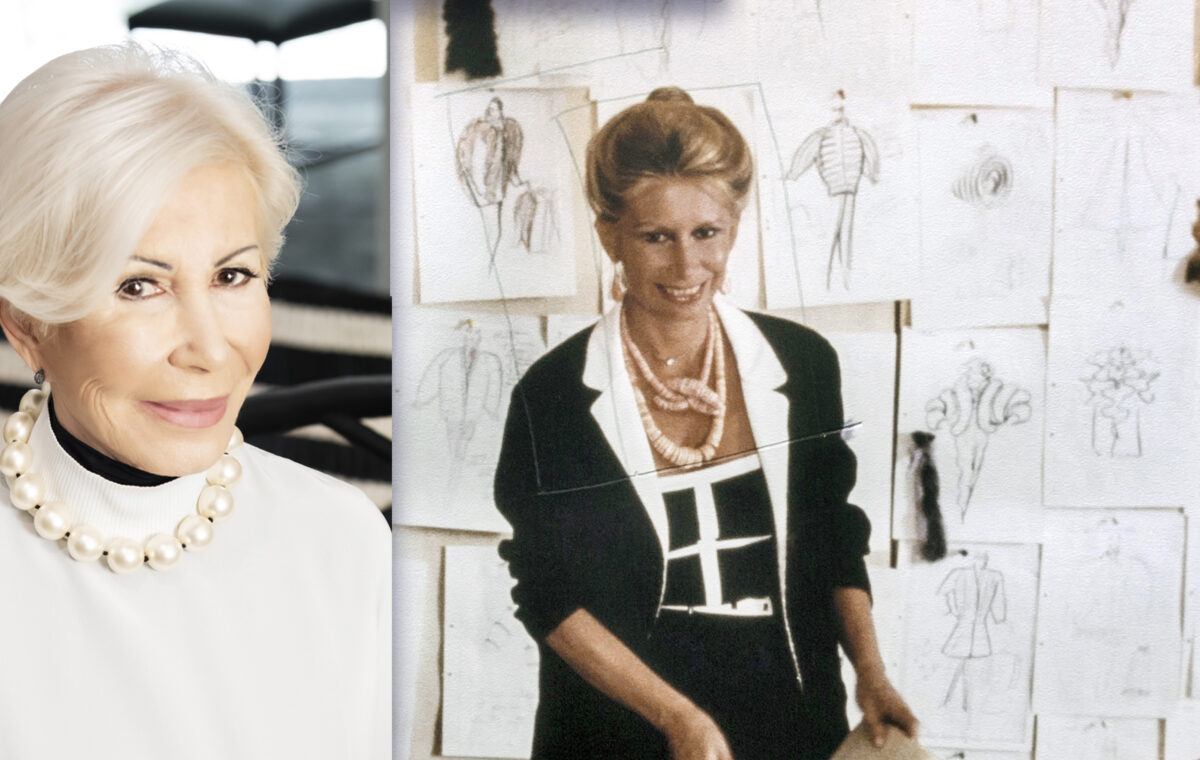 Wednesday, May 31, 2023
The Lavazza IncluCity Festival Announces its 2023 Official Lineup and Guests
FENDI Lands in Toronto for a Special Tribute
The landmark festival of Toronto returns to the Distillery District from June 27 to July 21 with special events, premieres, live performances, and a whole new horror program
TORONTO – The Lavazza IncluCity Festival, organized by ICFF, announces its full lineup of premieres and special events for an unforgettable experience from June 27 to July 22, 2023, in the Distillery Historic District. The initiative will dedicate a special tribute to an icon of global fashion: the stylist and entrepreneur, Anna Fendi with an exclusive "In Conversation with…" and Gala Dinner. On this occasion, Anna Fendi will be accepting the ICFF Lifetime Achievement Award for her illustrious career, her paramount role in the success and expansion of Fendi, and her contribution to international cinema.
With over 50 captivating feature films in its official lineup, the 12th edition promises to be one for the books. Following the acclaim generated in its past editions, the Lavazza IncluCity Festival has become a beloved tradition in Toronto, dominating the city's summer scene and transforming Trinity Street into unique outdoor theatres in partnership with The Distillery Historic District. Our one-of-a-kind mega screens and stages are brought to you thanks to the support of Rogers Communications, ICFF Official Communication Partner, and Christie® and Mac Show Systems.
"I'm proud to say that the Lavazza IncluCity Festival continues to be a platform where stories from all corners of the world converge, celebrating our shared humanity and embracing the beauty of our differences", said Cristiano de Florentiis, ICFF Co-Founder and Artistic Director. "We are excited to invite everyone once again to join us for an unforgettable experience that will inspire, entertain, and elevate our city's entertainment and culture profile."
With bigger stages and larger screens, the festival will showcase the very best of international cinema from 26 countries, along with a vibrant tapestry of all-day programming including dynamic music shows, dance performances, masterclasses and panel discussions. In addition, building upon the tremendous success of its first edition, the festival will elevate its signature art exhibit, the 6ix Art Outdoors, by featuring an expanded collection of 20 multicultural sculptures across the site.
"We extend a warm invitation to all audiences to join us in this extraordinary edition of the Lavazza IncluCity Festival at the Distillery District," said Jamie Goad, Partner at The Distillery Historic District. "With our rich heritage of support for the film industry and fostering a diverse range of artists, we have found the perfect synergy with the ICFF. Beyond indulging in the remarkable lineup of international cinema, I encourage festival attendees to immerse themselves in the captivating ambiance, multitude of activities and the unique tenants that are part of our community here at the Distillery District."
"This year's is our most remarkable festival yet, made possible through the incredible partnership between ICFF, The Distillery District, and all our sponsors and partners who enable us to continue innovating," said Paul Golini, Chair of the ICFF Board. "We are overfilled with joy to return to the iconic Distillery District, one of Toronto's most cherished and recognized landmarks, with a program that goes well beyond cinema."
"As a company that has long been committed to fostering an inclusive culture, the Lavazza Group is proud to present an event that recognizes, supports, and celebrates inclusion and diversity of Toronto and its residents," said Andrea Chiaramello, Head of Lavazza Canada. "I am extremely excited that ICFF has returned to the heart of Toronto and look forward to the exceptional new program this year's festival has to offer."
Launching the festival's celebrations, ICFF presents an exclusive Opening Night with the Special Screening of Freaks Out by Gabriele Mainetti accompanied by a captivating showcase from the Royal Canadian International Circus. Circus tradition has been an integral part of the history and culture of Canada, and ICFF wants to celebrate this paramount legacy in great style creating a one-of-a-kind experience where cinema converges with the physical artistry of circus performers, for a night of fun and entertainment during its grand opening.
Closing the festivities at the Distillery District will be the North American Premiere of Diabolik: Ginko Attacks directed by the Manetti brothers, featuring Hollywood star Giacomo Gianniotti and Italy's "it" actress Miriam Leone, both in attendance at the festival. The film represents the second episode of the adventure of the beloved Italian comic superhero, as he and his partner-in-crime navigate thrilling challenges and face the supervillain Inspector Ginko.
The festival is also bringing to Toronto the North American Premiere of Bank of Dave by Chris Foggin, one of the most beloved UK films of the year. The movie showcases the inspiring real-life journey of Dave Fishwick, the man who fought to set up an independent lending company during the financial crisis in 2008 to help those living in his hometown. Inspired by another true story, the festival is proud to bring to the big screen the Canadian Theatrical Premiere of Sweetwater by Martin Guigui, showcasing the captivating and empowering life of Nat "Sweetwater" Clifton, as he becomes the first African American player to sign with the NBA.
In celebration of the best Canadian cinema of the season, Lavazza IncluCity proudly presents a Special Festival Screening of two highly acclaimed films, BlackBerry by Matt Johnson and Infinity Pool by Brandon Cronenberg. Garnering international recognition, the films will be showcased in unique presentations during the festival respectively on Canada Day and on July 14th.
Directly from Nollywood, the festival is happy to present the International Premiere of Hotel Labamba by Biodun Stephen, and in representation of the Dominican Republic and Peru, the IncluCity will showcase the brilliant Canadian Premiere of The Year of The Tiger by Yasser Michelén. The festival is also very proud to maintain its spotlight on Ukrainian filmmakers with the film Persian Lessons by Ukrainian-Canadian director, Vadim Perelman.
With great pride from China, the initiative is delighted to announce the North American Festival Premiere of the action-packed film Eye for an Eye directed by Bingjia Yang. Hailing directly from "The best of" the 79th Venice Film Festival, the Lavazza IncluCity Festival presents the enchanting Canadian Premiere of The Last Queen directed by Adila Bendimerad and Damien Ounouri, showcasing the rich heritage of Algerian cinema.
For the first time in its twelve editions, the ICFF is thrilled to launch its first horror program titled "The Dark Side of Lavazza IncluCity Festival". This exciting addition marks a milestone for the festival, as it expands its repertoire to include the realm of horror in the Distillery District, for the occasion turned into a theatre of terror. The program features the curation and guidance of Chris Alexander, author of Delirium Magazine, film journalist, and horror expert.
The festival is proud to have the support of the Federal Government, the Ontario Government, OCAF, Telefilm Canada, Ontario Creates, the City of Toronto, the City of Vaughan, the Italian Government, the Ministry of Foreign Affairs and International Cooperation, the Embassy of Italy in Canada, and the Consulate General of Italy in Toronto.
LAVAZZA INCLUCITY FESTIVAL 2023 LINEUP
A Thousand Lines|Michael Herbig|Germany|North American Premiere
Lars Bogenius, a star reporter known for his captivating storytelling, becomes the center of attention with his emotionally charged reportage. However, freelance journalist Juan Romero starts uncovering inconsistencies in Bogenius' work, leading to a perilous investigation and unveiling the largest journalism scandal in Germany. Prepare for a gripping tale of truth and deception in the world of journalism.
Ariel|Alison Murray|Canada, Argentina
Siblings Davie and Diana return to Argentina, delving into the captivating world of tango clubs. However, their nostalgic journey takes a surprising turn when Diana reveals that Davie may have been adopted. Amidst confusion and self-discovery, Davie must confront his fears, even if it means sacrificing connections and redefining his sense of belonging to uncover the painful truth at the core of his existence.
The Canada Day presentation of the movie will include the participation of the director Alison Murray and lead actress Cristina Rosato.
Bandirma Füze Kulübü|Ömer Faruk Sorak|Turkey|North American Premiere
About 60 years ago, there was a fascination that took the world by storm: Space. A club is established in Bandirma by a group of high school students and their friends who share a dream: to send a rocket into space.
Bank of Dave|Chris Foggin|United Kingdom|North American Premiere
The inspiring true story of Dave Fishwick, a self-made millionaire from Burnley, as he endeavours to establish a community bank to uplift local businesses. Facing off against the entrenched financial institutions of London, Dave enlists the help of Hugh, a young lawyer, to challenge the system and secure the first banking license in a century. Together, they fight for the prosperity of their beloved Burnley and challenge the elitist banking establishment.
BlackBerry|Matt Johnson|Canada|Special Presentation
The story of the meteoric rise and catastrophic fall of the world's first smartphone. Witness how a pioneering company disrupted the tech industry, challenging global giants before succumbing to the fierce competition of Silicon Valley. This is not your typical tale of business failure driven by fraud and greed. The journey of BlackBerry reveals the dangerous speed at which innovators race along the information superhighway, showcasing the exhilarating dangers of the tech revolution.
Eye for an Eye|Bingjia Yang|China|North American Festival Premiere
Blind Cheng, a legendary "knife-catcher," seeks vengeance for the heinous family massacre and violation suffered by Ni Yan. Facing relentless challenges, Cheng's pursuit of justice becomes entangled with a web of secrets, testing his resolve. As he confronts his past and battles inner demons, Cheng must navigate danger and betrayal to find redemption and deliver justice to Ni Yan. Will his quest consume him or lead to redemption?
Hotel Labamba|Biodun Stephen|Nigeria, United States|North American Premiere
Hotel Labamba, a hidden retreat for those seeking privacy or with secrets to hide, faces a sudden twist when its guests become entangled in a murder mystery. With the glamorous Instagram influencer, Sexy Ella found dead, everyone in the hotel becomes a suspect. As fashionista-turned-detective Zizi and Sergeant Ofure team up to solve the case, the pressure mounts to find the killer before Chief's important guests arrive.
The movie will be presented by the director Biodun Stephen in attendance on July 14 at the Distillery Historic Distric
It Ain't Over|Sean Mullin|United States
An emotional and uplifting documentary about one of the most famous players in baseball history, Lawrence Peter "Yogi" Berra. It Ain't Over goes beyond the caricatures and "Yogisms," and into the heart of a sports legend whose unparalleled accomplishments on the baseball diamond were often overshadowed by his off-the-field persona.
Last Film Show|Pan Nalin|India, France, United States
Samay, a young boy in rural India, becomes captivated by the power of cinema after watching a movie at Galaxy Cinema. He embarks on a passionate journey, risking everything he loves, to pursue his dream of capturing and sharing light through storytelling. Along with his friend Fazal, the cinema's projectionist, Samay navigates challenges and forms a heartwarming bond. However, their dreams face heartbreaking obstacles as a changing era threatens to dismantle their 35mm dreams.
Nemesis the Movie: Mystery of Golden Spiral|Kenji Katagiri|Japan|North American Premiere
In the drama series "Nemesis," renowned investigator Naoki Kazama, from the Nemesis Investigator Agency, is known for cracking perplexing cases. The twist? Naoki is actually a terrible investigator in real life, relying on his brilliant assistant Anna Mikami to solve crimes. Together, they face challenges and unravel mysteries, showcasing the power of their unique partnership and unyielding teamwork.
Persian Lessons |Vadim Perelman|Ukraine|Toronto Festival Premiere
In 1942, Gilles, a young Belgian man, is captured by the SS and sent to a German concentration camp with other Jews. To avoid being executed, Gilles lies to the guards, claiming he is Persian. This ruse works for a while, until the camp's food preparation officer, Koch, demands Gilles teach him Persian. Forced to create a new language from scratch, Gilles risks his life with every word as his unique friendship with Koch draws both envy and suspicion from others in the camp in Persian Lessons by Vadim Perelman.
Sugar and Stars |Sébastien Tulard|France|Canadian Premiere
This touching film depicts the real-life story of Chef Yazid Ichemrahen and his road to success in the culinary world with all of its ups and downs. Since he was a kid, Yazid has had one big passion, pastry making. Raised between foster homes and group homes, the young man will try to make his dream come true: to work with the greatest pastry chefs and become the best.
Sweetwater|Martin Guigui|United States|Canadian Theatrical Premiere
The movie offers a captivating and engrossing portrayal of the true story of Nat 'Sweetwater' Clifton, who made history as the first African American to join the NBA. Directed and written by Martin Guigui, and produced by Josi Konski, Sweetwater takes viewers on a journey to explore the remarkable experiences, obstacles, and challenges faced by this Basketball Hall of Famer as he revolutionizes the game of basketball and secures a contract with the New York Knicks.
Switch |Ma Dae-yoon |South Korea|Canadian Premiere
Park Gang, a notorious actor who enjoys his wild single life, is managed by Jo Yoon, a failed actor turned manager. One faithful day, after a strange taxi-ride home, Park Gang wakes up to find that he is no longer an actor but instead a father of two with his ex-girlfriend Soo-Hyun, and that Jo Yoon is now a top actor. This alternate universe seems like a dream, but Park Gang quickly realizes that it's not. 
The Last Queen|Adila Bendimerad, Damien Ounouri|Algeria|Canadian Premiere
Inspired by the legendary Princess Zaphira, the courageous wife of the final King of Algiers, Salim Toumi. Set against the backdrop of the pirate-infested era, the film tells the gripping tale of Princess Zaphira's unwavering determination to protect her community from the notorious pirate Barbarossa. Prepare for an epic journey of love, courage, and the enduring legacy of a remarkable queen.
The Last Rider|Alex Holmes|France, United Kingdom
A captivating tale of the 1989 Tour De France, highlighting Greg LeMond's remarkable journey. Overcoming betrayal, childhood trauma, and near-death experiences, LeMond's inspiring comeback stands as a testament to the power of love and the triumph of the human spirit. This film is a celebration of resilience and the ability to achieve the seemingly impossible.
The screening is part of the 2023 ICFF Champions program in collaboration with Team Revolution.
The Night of the 12th|Dominik Moll|France, Belgium|Canadian Festival Premiere
Investigator Yohan takes on a haunting murder case when a young woman's tragic death is investigated. In a small town in the French mountains, Captain Yohan Vivés and his team from the Grenoble Criminal Squad are determined to solve the murder of 21-year-old Clara. As Yohan becomes obsessed with the case and delves into Clara's complicated past, the unsolved murder haunts him forever.
The Ship|Batan Silva|Mexico|Canadian Premiere
A man having a midlife crisis and a kid who has a terminal disease. Together they help each other and have an adventure to find the meaning of life again. The Ship is a delicate story addressing loneliness and isolation with a fun and welcoming approach.
The South|Giuseppe Marco Albano |Canada|World Premiere
Italian-Canadian recording artist and dancer Andrea Ramolo went to the Salento in southern Italy to explore the rich history of its folk music and dance. Joined by the Italian world music band Kalàscima, they record a new collaborative album which takes a modern approach to traditional music. Andrea learns from the past and encounters charming characters along the way, bringing her newfound knowledge back to Canada.
The Year of the Tiger|Yasser Michelén|Dominican Republic, Peru|Canadian Premiere
The owners of a restaurant, who are also a couple, are prepared to do whatever it takes to save their business from failing. They have various adventures and come into struggles with people, whether they're good or bad, gangsters or thieves
THE DARK SIDE OF INCLUCITY  
In the lineup, the festival is proud to present:
Godless: The Eastfield Exorcism|Nick Kozakis|Australia|North American Festival Premiere
Lara and Ron are a married couple facing challenges to restore their normal life. Lara's deteriorating health and inner conflict between science and faith drive Ron's frustration, pushing her towards a congregation of zealots for treatment. However, Lara's fate rests in the hands of a merciless exorcist, leading to an innocent woman enduring a hellish ordeal.
Infinity Pool |Brandon Cronenberg|Canada|Special Presentation
During their idyllic all-inclusive beach vacation on La Tolqa, James and Em Foster's blissful getaway takes a dark turn as a fatal accident reveals the resort's unsettling subculture of hedonism, violence, and surreal terrors. Navigating this twisted world, the couple confronts life-altering choices and the sobering truth that money may not protect them from the repercussions of their actions.
For this special presentation, the festival is proud to welcome the director Brandon Cronenberg to present the film on July 14 at the Distillery District.
The Land of Women|Marisa Vallone|Italy|Canadian Premiere
Fidela is the village witch: she treats evil jinxes and gives birth to all children belonging to others, but never to hers. It is the rule: no man can touch her. She adopts Bastiana, a seventh-born girl like her, to preserve her knowledge. In a timeless place made by observing pointed eyes, when sexual and intimate things happen only in the darkness, Bastiana will start a silent but powerful revolution able to unmask every vice of the human soul.
ITALIAN-FOCUS PROGRAM
Arnoldo Mondadori|Francesco Miccichè|Italy|International Premiere
The exemplary story of one of the most important pioneers of the Italian publishing industry who, with his vision, brought books and reading into the homes of all Italians.
The film will feature the presentation from the lead actor, Michele Placido, and the producer, Gloria Giorgianni on July 11 at the Distillery District.
Caravaggio's Shadow|Michele Placido|Italy
Delve into the mysterious life and artistic genius of the renowned Italian painter, Caravaggio. Set against the backdrop of 17th-century Italy, the film explores Caravaggio's tumultuous relationships, his provocative artistic style, and the shadowy secrets that shrouded his life. As his iconic works continue to inspire and intrigue centuries later, Caravaggio's Shadow invites viewers on a journey through the mind and artistry of one of history's most enigmatic figures.
To showcase and introduce the film will be the award-winning director, Michele Placido on July 10 at the Distillery District.
Diabolik: Ginko Attacks|Antonio Manetti, Marco Manetti|Italy, France|North American Premiere
An exhilarating adaptation of a classic Italian comic book, the charismatic and cunning thief returns to the big screen. Follow the beloved Diabolik and his accomplice Eva Kant in a thrilling new adventure against a more combative Inspector Ginko than ever.
The film will be presented by both stars of the movie Giacomo Gianniotti (Diabolik) and Miriam Leone (Eva Kant), respectively on July 2 and July 21.
Diary of Spices|Massimo Donati|Italy|North American Premiere
Renowned chef and spice connoisseur Luca Treves becomes intrigued by Andreas Dürren Fischer, a renowned restorer of Flemish paintings, despite their vastly different backgrounds in art and cuisine. Luca sees Andreas' invitation for a short business trip to Germany as an opportunity to make a career change but soon discovers that Andreas is hiding terrible secrets that push Luca to make appalling choices. In the midst of his private hell, Luca clings to his diary as a means of preserving his sanity, jotting down notes on spices and keeping his treasured recipes.
The First Day of My Life|Paolo Genevese|Italy|North American Premiere
The latest work by Paolo Genovese brings together a motivational life coach, a police officer, a former gymnast who has lost the use of her legs, and an overweight boy. On a rainy night, they all unexpectedly come together as "guests" of a mysterious individual who intervenes at the last moment, preventing them from making a life-altering decision.
Freaks Out|Gabriele Mainetti|Italy, Belgium
Set in Rome, 1943:  Matilde, Cencio, Fulvio and Mario are the main attractions of the "Mezza Piotta Circus" who find themselves caught up in the chaos of World War II. When a bombing raid destroys their home and kills many of their fellow performers, the survivors are forced to confront their own fears and prejudices as they struggle to survive in a world that seems determined to destroy them.
The Gate of Heaven|Vittorio De Sica|Italy
The festival is proud to present the restored drama masterpiece by world-renowned director Vittorio De Sica. On a train journey to Loreto, a group of afflicted individuals yearn for miracles as they recount their sufferings and desires. Directed by Vittorio De Sica during the German occupation of Rome, this cinematic masterpiece unfolds the transformative power of their destination, where the outcomes bring not only potential miracles but also profound self-realization.
The Journey: A Music Special from Andrea Bocelli|Gaetano Morbioli, Paolo Sodi|Italy, United States|North American Premiere
Merging world-class music with intimate conversations in the awe-inspiring Italian countryside, The Journey is an exploration of the moments that define us, the songs that inspire us, and the relationships that connect us to what matters.
Love Under House Arrest |Emiliano Corapi|Italy
Renato, an insurance broker, has managed to carefully avoid any romantic relationship in his life. However, his world takes a drastic turn when he serendipitously encounters Anna, an intriguing young woman who is under house arrest. In an instant, he finds himself smitten and allows himself to embrace love for the first time, but not without complications.
Presenting the film will be Miriam Leone, star of the film at the Distillery District
Lonely Voices|Andrea Brusa, Marco Scotuzzi|Italy|North American Premiere
This film chronicles the upheaval in one family's life at the onset of the pandemic. With the matriarch losing her steady income as a housekeeper, she finds a new source of attention and fame by teaching cooking lessons online. As the family grapples with the challenges of the pandemic, the matriarch's newfound celebrity status further complicates their already complicated lives.
Lust for Life |Michela Andreozzi|Italy|North American Premiere
Marco and Anna, a successful engineer and architect respectively, have been in a relationship for years and have a son named Tommaso. Despite their seemingly perfect life, the couple faces a crisis that threatens to tear them apart. When Anna suggests moving to Ibiza to start anew, Marco refuses but later considers a job transfer to Amsterdam. To salvage their relationship, they embark on a trip to Norway with their son, during which they rediscover their love for each other in unexpected ways.
In attendance at the Distillery District will be the lead actor and screenwriter, Fabio Volo on June 29.
Need a Friend? | Alessandro Siani | Italy | Premiere|International Premiere
Lorenzo runs a company called "Tramite amicizia" that rents out friends. When Lorenzo's family members, who work at a confectionery factory, reach out to the agency because the owner, Alberto Dessè, wants to sell the factory, Lorenzo takes on the task of befriending him to prevent the sale and save hundreds of jobs. With the help of his cousin Filomena and a special friend named Maya, Lorenzo sets out to convince Alberto to change his mind.
Perugino – The Eternal Renaissance|Giovanni Piscaglia|Italy|International Premiere
Director Giovanni Piscaglia tells the story of the life and art of Perugino, the Umbrian painter known for his harmonious and beautiful works. Narrated by Marco Bocci, the documentary delves into Perugino's artistic production, which was marked by balance and contemporary storytelling through the use of colour and the perfection of his subjects' gazes and landscapes.
To mark the 500th anniversary of Perugino's death, ICFF will showcase the premiere of the documentary accompanied by an exhibition of 15 panels depicting the best works of Perugino at the Distillery District.
Pure Silver|Matteo Ceccarelli|Italy
This documentary takes us behind the scenes of a movie restoration project. Through interviews with film history scholars, archivists, and the restorers themselves, we explore the significance of the film "La porta del cielo" in Italian and world cinematography. Delve into the unexpected journey of Vittorio De Sica and Cesare Zavattini, who reluctantly made the movie that ultimately paved the way for Neorealism.
Slow Slow|Nicole Prosatore|Italy|International Premiere
Naples, 1987, the season of the first Scudetto and of a city hoping for redemption. The inhabitants of a suburban building live out their last months before making way for an elevated railway that will sweep away their little world forever.
Strangeness|Roberto Andò |Italy |North American Premiere
During a trip to Sicily in 1920, famous Italian writer Luigi Pirandello has a chance encounter with two amateur actors, Onofrio Principato and Sebastiano Vella. Little does he know that this meeting will lead to unexpected and great surprises.
Superheroes|Paolo Genevese|Italy|International Premiere
Anna, a nonconformist cartoonist, and Marco, a physics teacher who believes in formulas for everything, are an unlikely couple. Linked by no reason, they are the real superheroes: you need superpowers to love each other for a lifetime.
The Bone Breakers|Vincenzo Pirrotta|Italy|North American Premiere
In Palermo, a criminal organization fractures the limbs of willing victims before staging fake accidents for insurance payouts. Vincenzo recruits individuals from among the down-and-outs that haunt the city streets, including Luisa, who frequents the city streets for crack. When a series of mistakes shuts Vincenzo out of the gang, and Luisa is now his only chance: he convinces her to have her bones broken.
Three Too Many|Fabio De Luigi|Italy|International Premiere
In this family comedy, Marco and Giulia, a child-free couple, believe they're living in paradise without the burdens of parenting. They proudly distance themselves from their worn-out parent friends. However, fate takes a twist when they wake up one day to find themselves with three unexpected children. Determined to regain their carefree life, they embark on a hilarious journey to free themselves from their newfound parental responsibilities. Join Marco and Giulia as they navigate the joys and struggles of parenthood in this heartwarming tale.
The Eight Mountains|Felix van Groeningen, Charlotte Vandermeersch|Italy, Belgium, France
This film is a tender story of friendship. Of children becoming men who try to erase the footprints of their fathers, but who, through the twists and turns they take, always end up returning home. Pietro is a boy from the city, and Bruno is the last child of a forgotten mountain village. Over the years Bruno remains faithful to his mountain, while Pietro is the one who comes and goes. Their encounters introduce them to love and loss, reminding them of their origins, and letting their destinies unfold, as Pietro and Bruno discover what it means to be true friends for life.
The Other Way |Alessandro Garilli|Italy|North American Premiere
Russian front, January 1943. Sergeant Bisi and his remaining men from the 604th Company embark on a treacherous journey to escape encirclement by the enemy. Battling harsh elements and facing the haunting spectres of war, they traverse a desolate landscape filled with snow-covered landscapes, burning towns, and unpredictable terrain. In a nightmarish odyssey of survival and humanity, their resilience is tested as they strive to find a path to safety in a world consumed by chaos and despair.
The Return of Casanova|Gabriele Salvatores|Italy, France|International Premiere
The film follows Leo Bernardi, a successful and acclaimed Italian director nearing the end of his career, who grapples with the reality of his fading stardom. His latest film, inspired by Arthur Schnitzler's novel about Casanova, mirrors Bernardi's own journey, as the aging Casanova yearns to return to Venice, his homeland, and encounters Marcolina, igniting dormant desires.
The Sky Hunters|Mario Vitale|Italy|International Premiere
The film recounts the real-life story, actions and bravery of pilot lieutenant of the Royal Army, Francesco Baracca and the aviation aces during World War I in Italy. Baracca was amongst the pioneers of Italian aviation and during the course of his life became known as the "Ace of Aces" for winning 34 aerial confrontations against his enemies. Despite his tragic demise at a young age, he achieved great success and, to this day, is highly regarded as one of the biggest heroes in Italian aviation history.
The film is being presented to commemorate the hundred-year anniversary of the establishment of the Italian Air Force. The screening, taking place on July 12 at the Distillery District, will include the participation of producer Gloria Giorgianni.
Where Life Begins|Stéphane Freiss|Italy, France
The film portrays the journey of an ultra-orthodox Jewish family from Aix-les-Bains as they embark on a visit to a farm in Calabria, solely focused on the sacred task of harvesting citrons. Within this narrative, Elio, the farm's owner, coincidentally encounters Esther, the rabbi's daughter, who yearns to liberate herself from the constraints of her religious background.
SPECIAL FOCUS: ARCHITECTURE & DESIGN
A staple in the ICFF programming, the festival is proud to present a new focus on Architecture and Design. Specifically, this year a special spotlight will be dedicated to Angelo Mangiarotti, a prominent figure in Italian design and architecture history known for his innovative and functional designs that combined aesthetics with practicality, and Lina Bo Bardi, an influential Italian-Brazilian architect and designer, known for her unique approach to architecture, which combined modernist principles with a deep understanding of the local culture and context.
The Architecture & Design lineup includes:
Alfabeto Mangiarotti|Davide Maffei|Italy |International Premiere
The docu-film aims to explore the figure of Angelo Mangiarotti within the context of 20th-century Italian design culture, with a particular focus on his attitude and sensitivity toward materials and craftsmanship. Through footage of his architectural works and interviews with his collaborators, clients, and friends, the film delves into the connections and resonances between the various disciplines in which he operated, seeking to reconstruct the depth of his thinking, his strong inclination towards innovation, and the inherent poetry of his creations.
Lina Bo Bardi – A Marvellous Entanglement|Isaac Julien|United Kingdom
A captivating tribute to the renowned Brazilian architect, Lina Bo Bardi. This film delves into Bo Bardi's multifaceted career, spanning architecture, set design, illustration, and more. Through choreographed performances and screen installations, the film showcases her iconic buildings and creative projects, highlighting her lasting impact on 20th-century Latin American Modernist architecture.
SHORT FILM SELECTION
The Lavazza IncluCity Festival is proud to present the work of up-and-coming filmmakers with short films from all around the world.
20 minutes|Daniele Esposito|Italy
Don't be Cruel|Andrej Chinappi|Italy
Fumo|Andrea Rebuzzi|Italy
Il richiamo del vuoto|Nora Trebastoni|Italy, Tunisia
L'ultimo dell'anno|Fabrizio Provinciali|Italy
La neve coprirà tutte le cose|Daniele Babbo|Italy
La piccola estate (Summertime)|Sara Scalera|Italy, Spain
Mammarranca|Francesco Piras|Italy
Metamorfosi|Pietro Porporati|Italy
Natìa|Roberta Spagnuolo|Italy
Nei tuoi Panni|Damiano Monaco|Italy
Soffocare|Matteo Giancaspro|Italy
Soft Core | Madhav Parth | USA
Sulla loro pelle|Marika Ikonomu, Alessandro Leone, Simone Manda|Italy
Swimming Together|Yichao Fu|China
The Sea That Moves Things|Lucila Riggio|Italy
Three times per week|Emanuele Vicorito|Italy
Torto Marcio|Prospero Pensa|Italy
Short Animation
Caramelle|Matteo Panebarco|Italy
Life, a great adventure|Tony Tarantini, Tom Bancroft|Italy, Canada
The show through my eyes|Carlo De Togni|Italy
Wish|Tony Tarantini, Tom Bancroft|Canada
Yujo|Jihn Nevarez, Sandro Cleuzo, Tony Tarantini|Italy, Canada, Japan
The festival will also present A Better Half, the acclaimed award-winning short by Marco Calvani, in Special Presentation during its initiative.
COMPETITION AWARDS
The Lavazza IncluCity Festival will announce the Excellence, Lifetime Achievement, Best Director, Best Actor, Best Actress and Jury Awards throughout the festival. The People's Choice and Short Film Awards will be announced on Friday, July 21. All film categories, except Special Events, will be eligible for the People's Choice Award.
Tickets are available for purchase now at https://icff.ca/.
Press Accreditation is mandatory at https://icff.ca/press-accreditation-form/.
Social Media
Instagram: @icffcanada & @distilleryto
Twitter/Facebook: @ICFFCanada & @DistilleryTO
#ICFF23 #LavazzaIncluCity23 #DistilleryIncluCity
About ICFF
Inaugurated as a grassroots non-profit film festival in 2012, ICFF has developed into a multidisciplinary and multicultural organization that embraces all facets of the arts. ICFF has grown to celebrate over 19 different local communities through premieres and special events, attracting 54,000+ attendees at its summer initiative. For more information, visit https://icff.ca/.
About Lavazza
Lavazza, founded in Turin in 1895, has been owned by the Lavazza family for four generations. Today the Group is one of the leading players on the global coffee scene, with turnover of over € 2.7 billion and a portfolio of top brands that lead their respective markets, such as Lavazza, Carte Noire, Merrild and Kicking Horse. It is active in all business sectors and has operations in 140 markets, with 8 manufacturing plants in 5 countries and about 5,500 collaborators all over the world. The Group's global presence is the result of over 125 years of growth and the more than 30 billion cups of Lavazza coffee produced every year are a testament to a remarkable success story, with the goal of continuing to offer the best coffee possible, in all forms, by focusing on every aspect of the supply chain, from the selection of the raw material to the product in the cup. Lavazza Group has revolutionized coffee culture by investing continuously in research and development: from the intuition that marked the company's earliest success – the coffee blend – to the development of innovative packaging solutions; from the first espresso sipped in Space to the dozens of industrial patents. The ability to be ahead of the times is also reflected in the focus on sustainability – economic, social and environmental – which has always been a benchmark for guiding corporate strategies. "Awakening a better world every morning" is the corporate purpose of Lavazza Group, with the aim of creating sustainable value for shareholders, collaborators, consumers and the communities in which it operates, combining competitiveness with social and environmental responsibility.
About the 2023 Festival Sponsors and Partners
Institutional partners: the Italian Embassy in Ottawa, the Italian Consulate General in Toronto, the Italian Institute of Culture in Toronto, the Italian Trade Agency, ANICA, the Government of Canada, the Government of Ontario, Telefilm Canada, Ontario Creates, OCAF, the City of Toronto, the City of Vaughan.  Official Communication partner: Rogers Communications. ICFF Media Partners are: RAI Italia, CHIN Radio/TV, OMNI Television, Citytv and BlogTO. Our Major Partners: TIFF, SIRT, Take 5 Production, Cineplex Cinemas, George Brown, and Cinémathèque QC. Our Official Airline Sponsor: Delta Airlines. Leading Sponsors: Empire Communities, Masi Group, Barilla, Cityzen, The Distillery Historic District, Hamilton Swatch Group, Aluminum Pergola, Campari Canada, Great Gulf, and Castlepoint Numa. Premiere Sponsors: Pizza Nova, LiUNA, Tatatu, Canon Canada, Rio Mare, KPMG, Christie Digital, Fazzari + Partners LLP, Hampton Stone, The Toronto Clinic, Baci Perugina, Policaro Group, and Mac Show System.
About The Distillery Historic District
The Distillery Historic District opened in 2003 and is today widely regarded as Canada's premier arts, culture and entertainment destination. It's a national historic site, originally founded in 1832, brimming with creativity and creative people that can inspire dreams and help them come true. The 13-acre walking district is a dramatic fusion of old and new. The space boasts an inspired blend of the largest collection of Victorian Industrial architecture in North America and stunning 21st century design and creativity. The result is an internationally acclaimed village of one-of-a-kind stores, shops, galleries, studios, restaurants, cafes, theatres and more, which was named one of The Coolest Shopping Districts Around the World by The Guardian. Visit www.thedistillerydistrict.com for more information.
– 30 –
For more information or to request interviews, please contact:
ICFF:
Donatella Zanon, ICFF Communications Coordinator
416-893-3966