PLOT : Following the death of her matriarch and beloved grandmother, The South follows Italian- Canadian recording artist and dancer Andrea Ramolo to the Salento in southern Italy to explore the rich history of its folk music and dance. Director Giuseppe Marco Albano captures Andrea as she uncovers the cultural phenomenon of the tarantate, the evolution of the pizzica, and the healing rituals of the south, and the Salento in particular. The film also follows her and Italian world music band Kalàscima behind the scenes as they embark on the recording of a new collaborative Italian album which takes a modern approach to traditional music. As a first-generation Italian—Canadian artist, Andrea is given this unique opportunity to learn from the south, from the past, and from the charming and colourful characters she encounters along the way. From legends of spider bites to the healing power of music and dance, Andrea brings her newfound knowledge of southern Italian tradition back to Canada in a unique and captivating way.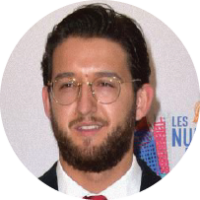 Giuseppe Marco Albano. is an award-winning Italian director, screenwriter and producer. His film Stand By Me won the Silver Ribbon for best Italian short film. In 2013 he was awarded the Massimo Troisi Award for the best comedy short film. In the same year he presented the short film AnnA at the 70th Venice Film Festival.In 2014 he produced, wrote and directed the short film Thriller, which won the Davide di Donatello in 2015 for the best Italian short film. In 2015 he also received the Rodolfo Valentino Award as a young talent of Italian cinema. In June of 2016 at the UNESCO headquarters in Paris, he represented Italy for the review "Les Nuits en Or", organized by the French Academy of the César Prize.
In December 2022, at the 40th TFF Torino Film Festival, he presented the documentary entitled Noi Ce La Siamo Cavata which shares memories and interviews with the protagonists of a cult film by the great director Lina Wertmüller, based on the homonymous best-seller by Marcello D'Orta.

Length 1h 6min
Year 2023

---
Cast Andrea Ramolo, Alessandra Belloni, Francesca Silvano, Michele D'elia, Massimiliano De Marco, Carlo Massarelli, Luca Bucarella, Giovani Chirico, Federico Laganá, Biagio Panico, Rosaria Gaballo, Franca Gaballo, Lucia Scarabino, Veronica Calati, Stefano Campagna, Mattia Politi, Luisa Del Giudice,

Production A film by Andrea Ramolo
---