PLOT : Based on the iconic novel by Eden Robinson, Monkey Beach is a heartfelt and often funny look at grief and the importance of family. Lisa, a young Haisla woman with clairvoyant abilities, returns to her hometown of Kitamaat and tries to come to terms with the fact that her brother, Jimmy, has gone missing at sea. Soon, she finds herself drifting between her life in Kitamaat and the spirit world, in an attempt to save him. Layering tragedy, humor, and redemption, this charming supernatural mystery tells the story of a rebellious young woman who must accept her true heroic nature in order to save her family.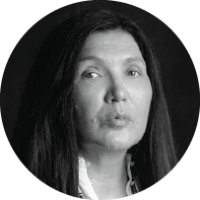 Loretta Todd. Renowned documentarian Loretta Todd is a Canadian Indigenous film director. Todd has
directed over 100 projects, including award-winning documentaries (Forgotten Warriors, Hands
of History, People Go On), digital media and games (My Cree App, Coyote Quest), animation
(25 short animations), and TV. Her media work encompasses contributions to the development
of Indigenous media, providing opportunities for the Indigenous cast, crew and creative, building
new spaces for Indigenous production and expression and writing influential scholarly essays on issues of appropriation, representation and Indigenous futurism.

Length 1h 45min
Year 2020

---
Cast Grace Dove, Adam Beach, Joel Oulette,

Production Mama-oo Productions, Reunion Pacific Entertainment
---