PLOT : The film opens in 1943 and Matilde, Cencio, Fulvio and Mario, four circus performers, are putting on a routine show. First up is Cencio, a lanky platinum-blond boy who can control insects (except bees because they annoy him); then comes Mario, a stout man with magnetic abilities; then Fulvio, a burly, hairy man with extraordinary strength; and finally, Matilde, a delicate beauty whose body conducts an electrical current. At the head of circus operations is Israel, a Jewish magician. Suddenly, an explosion interrupts
the show, and the circus tent falls. The Nazis have entered Rome and brought with them violence and bigotry. The family of performers scatter to find refuge. Their only option is to escape, and Israel has a plan. If they each pay him 300 lire, he can procure transportation to help them leave Rome and find a new home. The crew is initially sceptical but acquiesces out of desperation and limited options. After all, they want to stick together.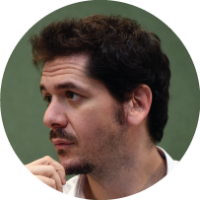 Gabriele Mainetti. is an Italian actor, director, composer, and a film producer. He began his career at theatre in 1998. In that period, Gabriele played important roles in different movies and TV shows. Then, he focused on short films direction achieving important results: his last release, entitled Tiger Boy (2012), has won the Best International Short Film at the "Flickerfest International Film Festival" 2013 (in Australia).
His debut feature film, They Call Me Jeeg (2015), was praised by audience and critic, gaining several major Italian prizes. Mainetti won the awards for Best New Director and Best Producer at the 2016 David di Donatello. His second feature Freaks Out received 16 nominations for the David di Donatello 2022 and won six, including Best Producer.

Length 1h 41min
Year 2021

---
Cast Claudio Santamaria, Aurora Giovinazzo, Pietro Castellitto, Giancarlo Martini, Max Mazzotta, Franz Rogowski, Riccardo Angelini, Anna Tenta,
Distribution 01 Distribution
Production Goon Films, Lucky Red, Rai Cinema, GapBusters, in association with VOO and BE TV, with the support of Regione Lazio, Wallimage, Casa Kafka Pictures, Calabria Film Commission Foundation
Tuesday, June 27

7:00 PM

PARTY+MOVIE

The Distillery District (Trinity Cinema)

Toronto

Thursday, July 13

8:15 PM

Outdoor

The Distillery District (Spirit Cinema)

Toronto

Wednesday, August 16

9:00 PM

Outdoor

Parc Dante

Montréal
---