JUNE 24th, 2022
6:00 PM Cocktail | 6:30 PM Gala Dinner @ Ricarda's (134 Peter St, Toronto)
9:15 PM Movie Screening @ TIFF BELL LIGHTBOX (350 King St W, Toronto)
As Sergio Marchionne once said himself, "Mediocrity is not worth the trip", and ICFF is putting this statement into action with this exclusive and EXCLUSIVE event that is set to be far from mediocre!. Few people can say they saved an automotive icon from the brink of bankruptcy. Fewer can say that they did this all in a matter of 10 years. What Sergio Marchionne did with Fiat Chrysler changed the automotive industry forever. The event will honour Marchionne's legacy and contributions to the Italian-Canadian community with a sit-down gala dinner at the Ricarda's followed by the screening of the documentary 'SERGIO MARCHIONNE, IL CORAGGIO DI CONTARE' at the iconic TIFF Bell Lightbox.
6:00 PM Cocktail | 6:30 PM Gala Dinner @ Ricarda's (134 Peter St, Toronto)
Gala Dinner
Situated in the heart of downtown Toronto, Ricarda's is voted one of Toronto's TOP luxury event venues. Join us for an exquisite sitdown dinner off ering an Italian gastronomic experience not to be missed! Seated within the breathtaking amalgamation of exposed brick dating back to the early 20th century and award-winning design elements with its iconic 70-foot ceilings, guests will be surrounded by famous Fiat cars on display while enjoying a red carpet welcome and cocktail experience, followed by the best of Italian cuisine by Ricarda's renowned chefs, wines from Masi, spirits from Campari, coff ee from Lavazza, special guest appearances, music and featured presentations by our VIPs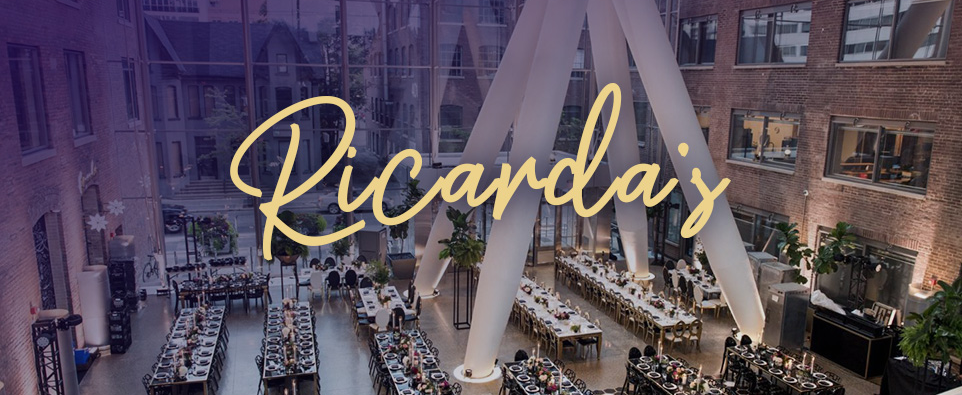 9:15 PM Movie Screening @ TIFF Bell Lighbox (350 King St W, Toronto)
Movie Screening
'SERGIO MARCHIONNE, IL CORAGGIO DI CONTARE' || DIRECTED BY FRANCESCO MICCICHÉ. The documentary offers a unique insight into the man that revolutionized one of the most important Italian brands in the world: Fiat. During an unprecedented and challenging time, Marchionne was able not only to save the company from bankruptcy but revamped the market, bringing great pride to Italy's car manufacture and promoting 'the made in Italy' worldwide. The documentary perfectly portrays his entrepreneurial journey, encompasses his life and larger-than-life character, as well as his Italian-Canadian identity, unveiling the man behind the legend.