Predictmedix Inc. Deploys Safe Entry Stations at the Italian Contemporary Film Festival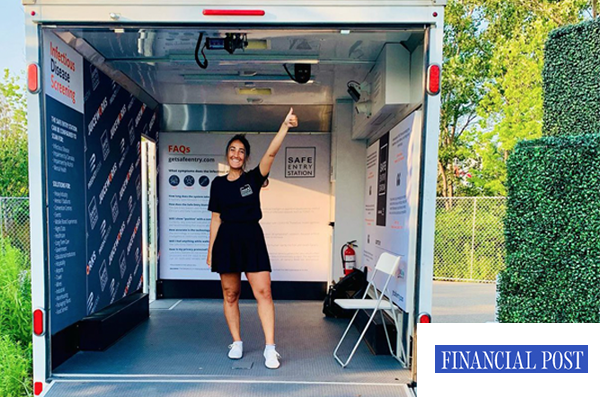 TORONTO, June 03, 2021
Predictmedix, is pleased to announce the deployment of Safe Entry Stations at the Lavazza Drive In Film Festival to be held in Ontario from June 27 to July 17.
Inaugurated as a grassroots non-profit film festival in 2012, Italian Contemporary Film Festival (ICFF) has grown to become one of the largest Italian film festivals outside of Italy. Launched last year with the desire to reconnect audiences and communities, and support the countries most affected by the pandemic, the Lavazza Drive-In Film Festival was able to safely bring an audience of over 20,000 people to the cities of Toronto, Vaughan and Markham. This year, the festival returns to Toronto's playground, Ontario Place, with an enhanced multicultural program of three weeks that will take the audience on a journey across 16 different countries.
Safe Entry Stations will be deployed to screen staff at the Lavazza Drive-In Film Festival organized by ICFF and CHIN between June 27 and July 17, 2021.  It will then be used to rapidly screen patrons and staff prior to access to open-air screenings, set to begin mid-July.
Safe Entry Stations utilize a proprietary AI algorithm to provide a rapid (approx. 2 seconds), robust, and non-invasive screening, including multi-symptom detection of infectious diseases, such as COVID-19.
The deployment marks the third of its kind in the live event space and the Company's expansion into a new industry vertical. Previous deployments included a series of VIP parties at the Super Bowl in February as well as a recently announced partnership for HockeyFest, a travelling hockey tournament slated to begin July 9 and hosted throughout North America.
"It's an honour for Safe Entry to collaborate with the ICFF team to create a safer event where Torontonians can come together once again to enjoy the arts," commented Jonathan Auger, Founder, JUICEWORKS.
"With vaccinations on the rise, we are starting to witness what a return to normal could look like. It is important for us to exercise caution, and we're proud to partner with ICFF to ensure safety is paramount for all participants and visitors," said Dr. Rahul Kushwah, COO, Predictmedix Inc.
"We're excited to partner with Juiceworks and Predictmedix's digital health technology," says ICFF Co-Founder and Artistic Director Cristiano de Florentiis. "Thanks to their innovative artificial intelligence technology, the festival will give guests peace of mind to finally reconnect in-person with the community after a very long year and the 'ticket' to enjoy the breathtaking screenings in open-air venues, completely worry-free."