Canada Premier
WE HAVE A POP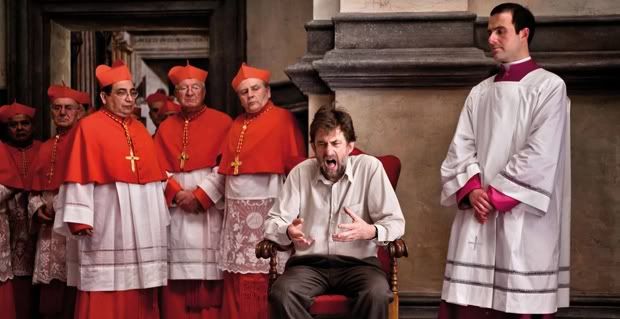 Director: Nanni Moretti
Cast: Michel Piccoli, Nanni Moretti, Jerzy Stuhr, Marghertia Buy
[tabs] [tab title="English"]
Plot
On the death of the pope, the conclave meets in Rome. Early ballots end with black smoke, since none of the main candidates reaches the quorum. After several rounds of voting, Cardinal Melville is elected by surprise. At the moment of the public announcement, with the faithful are gathered in St. Peter's Square and the cardinal proto-deacon ready to announce the name of the new pope, the newly-elected pope has a panic attack and fails to appear on the balcony.
The spokesman of the Holy See evades questions from the press and the curiosity of the outside world by reporting that the new pontiff felt the need to gather in prayer and reflection before taking office, and by explaining that he will make his official appearance within a few hours. This does not happen.In accordance with the laws of the Church, until the pope appears before the people on the balcony, the ceremony of election is not over and the whole conclave cannot have any contact with the outside world.
The College of Cardinals, deeply concerned by the crisis and the depression from which the new pope seems to be suffering, calls in the psychoanalyst Professor Brezzi. The Cardinals welcome the psychoanalyst with suspicion, but still allow him to examine the Holy Father. Brezzi, in the presence of the Cardinals, tries to initiate a psychotherapy session, which however fails to reveal anything to explain the depression and helplessness that plague the pontiff.
Brezzi reveals that his ex-wife is also a psychoanalyst and the newly elected pope is taken secretly to see her, but escapes his minders and runs away during a walk. Unaware of his absence, and to kill time the cardinals take on a wide variety of games, ranging from cards to a real international volleyball tournament organized by Brezzi.
Vatican spokesman Marcin Rajski makes everyone believe that the Pope is in his quarters in prayer, and eventually the cardinals find Melville and give him another chance to announce his acceptance. However, when Melville comes out onto the balcony he declines his new position, claiming "I am not the leader you need," and retreats back into his apartments.
[/tab] [tab title="Italian"]
Trama
Dopo morte del papa, si riunisce a Roma il conclave per eleggere il suo successore. I primi scrutini si concludono con delle fumate nere, dato che nessuno dei candidati favoriti raggiunge il quorum necessario. Dopo alcune votazioni, viene eletto a sorpresa il cardinale Melville. Al momento della pubblica proclamazione, mentre il cardinale protodiacono sta per annunciare il nome del nuovo papa alla folla dei fedeli riuniti in Piazza San Pietro, il neo eletto ha un violento attacco di panico e fugge via nello sconcerto generale, interrompendo la cerimonia prima che sia pubblicamente annunciata la sua elezione.
Il portavoce della Santa Sede riesce ad eludere le domande della stampa e le curiosità del mondo intero, riferendo che il nuovo pontefice ha sentito il bisogno di raccogliersi in riflessione e preghiera prima di concedersi pubblicamente, ma che, prevedibilmente, nel giro di poche ore si sarebbe affacciato al balcone per festeggiare assieme ai fedeli l'inizio del nuovo pontificato.
Secondo le leggi della Chiesa, finché il papa non si presenta dinnanzi al popolo sul balcone, la cerimonia di elezione non è conclusa e l'intero conclave non può avere alcun contatto con l'esterno.
Nel frattempo, il collegio cardinalizio, fortemente preoccupato dalla crisi depressiva in cui sembra essere caduto il nuovo pontefice, fa convocare presso la Santa sede lo psicoanalista professor Brezzi. I cardinali accolgono con diffidenza lo psicanalista, ma consentono comunque che questi possa esaminare il Santo Padre. Brezzi, alla presenza dei cardinali, effettua una seduta analitica su di lui, dalla quale però non emerge nulla di particolare, se non la depressione e il senso di impotenza che affliggono il pontefice. Brezzi consiglia quindi una seduta presso uno psicanalista che non conosca l'identità del papa, dopodiché viene trattenuto in Vaticano per evitare che possa rivelare l'accaduto all'esterno.
Il neo eletto papa viene quindi condotto in incognito presso la ex moglie di Brezzi, anch'essa psicanalista, alla quale, senza rivelare la sua identità, confessa tutti i dubbi sulla propria capacità e forza per poter svolgere i nuovi obblighi. Dopo la seduta riesce a dileguarsi durante una passeggiata, sfuggendo alla sorveglianza del portavoce e della scorta. L'intero collegio e il dottor Brezzi vengono quindi confinati in una clausura forzata, durante la quale per ammazzare il tempo i cardinali intraprendono i più svariati giochi, dalle carte a un vero e proprio torneo di pallavolo.
Dopo la fuga, tenuta nascosta dal portavoce Marcin Raijski che fa credere a tutti che il papa sia nei suoi alloggi raccolto in preghiera, il pontefice si presenterà al cospetto dei cardinali riuniti in consiglio, per annunciare le sue volontà. Nel discorso ai fedeli, il papa ammette di non essere capace e di non poter essere la guida della Chiesa. Così, lascia nuovamente nel vuoto del conclave la chiesa, che resta senza guida nello smarrimento generale.
]
[/tab] [/tabs]