W Zappatore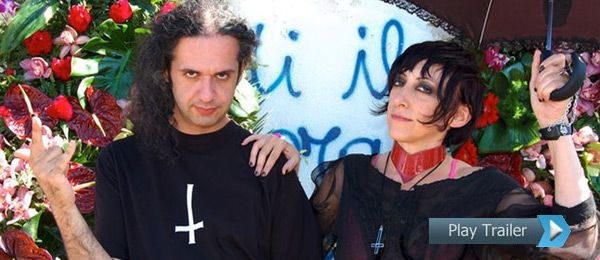 Director: Massimiliano Verdesca
Cast: Marcello Zappatore, Sandra Milo, Guja Jelo, Monica Nappo

English
Plot

Marcello Zappatore is a 33-year-old man from Lecce. He plays the electric guitar in a well-known local Satanist heavy metal band. His life is soon to be affected by an extraordinary event: an uncomfortable itch on the side of his rib cage that turns out to be a stigmata. Is it the sign of divine intervention or a call for change?
Marcello does not know the answer but he undertakes a deep and personal voyage in two very different and apparently incompatible worlds, that of God and that of Rock. He is accompanied by his bigoted mother, who tries to put him on the road to redemption by having him locked up in a monastery, and his grandmother, a very eccentric woman who incites him not to give up on Rock'n'Roll. Old and new friends alike, they all try to get Marcello to do the right thing. But what is the right thing for Marcello? Will he be able to find common ground between opposed universes, God and Rock 'n Roll?
_______________________________________________
Massimiliano Verdesca

Massimiliano Verdesca began his career in advertising working for clients such as Cartoon Network and Pepsi. After a couple of years he moved to New York, where he enrolled in the New York Film Academy to study Filmmaking. His first commercial was for the launch of MTV's digital platform channel, a job for which he was shortlisted at the Cannes Lions International Advertising Festival. In 2005 he co-produced the movie Onde. The following year, his first short movie project, In Religioso Disagio was presented at the Rotterdam International Film Festival and at several other festivals. The short movie was part of a wider project that brough to the screen the life of Marcello Zappatore, the protagonist of Verdesca's first feature film, W Zappatore.
Italiano
Trama
Marcello Zappatore è un ragazzo di 33 anni che suona la chitarra elettrica in una band metal satanista, famosa nella provincia di Lecce. La vita di Marcello è presto sconvolta da uno straordinario evento: un fastidioso prurito al costato che si rivela essere una stigmate. Dono divino o necessità di cambiamento?
Marcello non lo sa, ma la stigmate gli procura non pochi problemi, portandolo ad affrontare un viaggio attraverso due mondi apparentemente incompatibili: quello di Dio e quello del Rock 'n Roll. In questo percorso è accompagnato da una madre bigotta che lo instrada verso l'espiazione in un convento, e da una nonna strampalata che lo incoraggia a non mollare la via del Rock. Tutti cercano di indirizzarlo verso la retta via. Ma qual è la cosa giusta per Marcello? Esiste forse un punto d'incontro anche tra universi opposti?
_______________________________________________
Massimiliano Verdesca

Inizia a lavorare in pubblicità come copywriter occupandosi della comunicazione di clienti come Cartoon Network e Pepsi. Dopo un paio d'anni si trasferisce a New York per studiare regia. Il suo primo spot è il lancio di MTV sulla piattaforma digitale di SKY, finito poi in shortlist al festival di Cannes. Nel 2005 co-produce il film "Onde", di Francesco Fei. L'anno successivo, il corto In Religioso Disagio viene presentato in concorso al festival di Rotterdam e, in seguito, ad altri festival internazionali. Il corto è parte di un più ampio progetto riguardante il personaggio di Marcello Zappatore, protagonista del primo lungometraggio di Verdesca, W Zappatore.