The Resurrection of Tony Gitone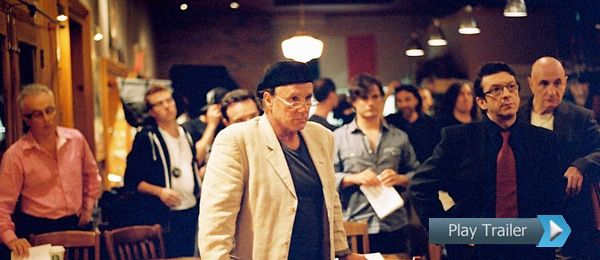 Director: Jerry Ciccoritti
Cast: Alvaro D'Antonio, Tony Nardi, Ron Lea, Nick Mancuso, Tony Nappo, Paula Rivera.

English
Plot

After struggling to make it in Hollywood, Nino finally lands a part when he is cast opposite an international star in a famous director's movie. Shooting the film in Toronto, his family throws a party in a restaurant in Little Italy to celebrate his success.
Over the course of the night buried emotions erupt and old wounds bleed again, the little Italian community is in for a night of drama. A comedy-drama about life, love, community and being Italian in a place where the earth is never warm enough for transplanted roots.
_______________________________________________
Jerry Ciccoritti

One of Canada's most provocative and in-demand directors, Jerry Ciccoritti, a second-generation Italian-Canadian, has directed feature films, television movies and mini-series. His features have consistently been invited to film festivals throughout the world and, in television, he has been awarded numerous prizes. He directed Paris, France (1993), The Life Before This (1999), selected for the Toronto and Berlin film festivals, and Blood (2004). Most recently, in 2012, Ciccoritti co-wrote, produced and directed the feature, The Resurrection of Tony Gitone, a comedy set in Toronto's Little Italy.
Italiano
Trama
Leo è un sedicenne come tanti: ama le chiacchiere con gli amici, il calcetto, le scorribande in motorino e il suo iPod. Le ore passate a scuola sono uno strazio. Poi arriva un nuovo supplente di storia e filosofia "diverso: sprona gli studenti a vivere intensamente, a cercare il proprio sogno. Leo sente in sé la forza di un leone, ma c'è un nemico che lo atterrisce: il bianco.
Tutto ciò che nella sua vita riguarda la privazione e la perdita è bianco. Il rosso invece è il colore dell'amore, della passione, del sangue; rosso è il colore dei capelli del suo sogno , Beatrice. Eventualmente Leo scopre che Beatrice ha una malattia che ha a che fare con il bianco. Leo è così spaventato che dovrà scavare a fondo dentro di sé, sanguinare e rinascere, per capire che i sogni non possono morire ; deve trovare il coraggio di credere in qualcosa di più grande di sè.
_______________________________________________
Jerry Ciccoritti

Figlio di immigrati italiani, Jerry Ciccoritti è tra i registi canadesi più provocatori e in ascesa del momento. Ha diretto film per il grande e il piccolo schermo che hanno riscosso un notevole successo ai film festival internazionali dove sono stati presentati, ottenendo anche numerosi riconoscimenti. Tra i suoi lavori vanno menzionati Paris, France (1993), The Life Before This (1999), selezionato per i film festival di Toronto e Berlino, e Blood (2004). Più recentemente, nel 2012, Ciccoritti ha scritto, prodotto e diretto The Resurrection of Tony Gitone, una commedia ambientata nella Little Italy di Toronto.