THE LANDLORDS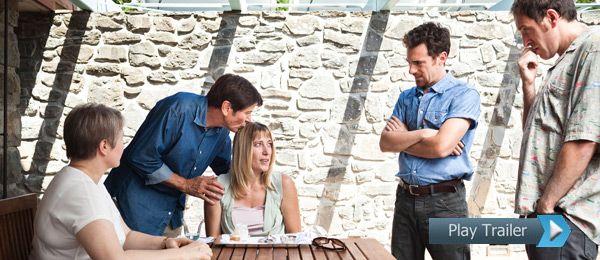 Director: Edoardo Gabbriellini
Cast: Elio Germano, Valerio Mastandrea, Gianni Morandi, Valeria Bruni Tedeschi, Mauro Marchese, Francesca Rabbi, Lorenzo Rivola, Alina Gulyalyeva, Giovanni Piccinini

English
Plot

Two brothers, Cosimo and Elia, young and overambitious contractors from Rome, arrive in a remote village in the Tuscan-Emilian Apennines to complete the renovation of the villa of the major landowner in the area: the popular singer Fausto Mieli.
Mieli, who retired from the music scene, is both loved and hated by the local community. Mieli's comeback concert is due to be held in the village at the end of the contractors' stay. Meanwhile, the clumsy and unwittingly arrogant presence of Cosimo and Elia in the village generates trouble and hostility amongst the local men.
At the same time Adriana, the village beauty, who is attracted to Elia, dreams of running away with him. The conflict that develops after the arrival of these "foreigners" produces dreadful and unexpected consequences in the lives of the protagonists and the community.
_______________________________________________
Edoardo Gabbriellini

Gabbriellini is an actor, director and screenwriter. As an actor, he starred in the following films: Ovosodo, Baci e abbracci and Tutta la vita davanti, all directed by Paolo Virzi'; Io sono l'amore, directed by Luca Guadagnino, and Il mattino ha l'oro in bocca. He directed B.B e il cormorano where he plays the role of Mario. The movie was presented at the Cannes Film Festival in 2003.
Italiano
Trama
I fratelli Cosimo ed Elia, due giovani, velleitari imprenditori edili, giungono da Roma in un remoto paesino dell'appennino Tosco-Emiliano per realizzare la ristrutturazione della villa dell'unico possidente dell'area: il popolare cantante Fausto Mieli.
Mieli, che si è ritirato dalle scene, è amato/odiato dalla comunità locale. Al termine del soggiorno degli impreditori, si terrà in paese il concerto rentrée di Fausto. Nel frattempo, la goffa e inconsapevolmente arrogante presenza di Cosimo ed Elia nel borgo genera fastidio e ostilità nei maschi locali, mentre Adriana, la bella del paese, attratta da Elia, sogna di fuggire via con lui. Il conflitto che si sviluppa dall'arrivo degli "stranieri", produce conseguenze terribili e inattese nella vita di tutti i protagonisti e della comunità.
_______________________________
_______________________________________________
Edoardo Gabbriellini

Attore, regista e sceneggiatore. Come attore ha recitato nei film Ovosodo, Baci e abbracci, Tutta la vita davanti, diretti da Paolo Virzì; Io sono l'amore, diretto da Luca Guadagnino, e in Il mattino ha l'oro in bocca. Come regista ha diretto B.B. e il cormorano nel quale riveste il ruolo di Mario. Il film è stato presentato al Festival di Cannes nel 2003.